This year sees 30 years of Britain's best Q-car. We get to grips with Vauxhall's very own Lotus Carlton, ahead of its 2020 event appearances.
Vauxhall Lotus Carlton:
Engine: 3615cc/6-cyl/DOHC
Power: 377bhp@5200rpm
Torque: 419lb ft@4200rpm
0-60 mph: 5.1s
Fuel consumption: 18-35mpg
Transmission: RWD, six-speed manual
What To Pay:
Project: £10,000-15,000
Usable: £20,000-25,000
Good: £30,000-35,000
Concours: £45,000+
Compared to its other highly-tuned saloon rivals, the Lotus Carlton is surprisingly muted. While Ford's Sierra RS Cosworth or the Tickford- decorated MG Maestro Turbo wear their lairiness with brash pride, the Carlton shows restraint. Sure, there's a bodykit, 17-inch Ronal alloys, bonnet vents and rear spoiler, but the overall effect is discrete. Even the single available colour, Imperial Green, is subdued. It's left to those scattered yellow and green Lotus badges to hint to the uninitiated how special these cars are. In fact, aside from the griffin roundel on the bonnet, there are no references to this being a Vauxhall. It's the same inside, too. The only logos and lettering are Lotus – on the sill plates, steering wheel, rev counter and under the glovebox limited edition plaque; this is number 820, by the way.
For what was a very expensive car in its day, the interior is surprisingly standard and down-played. Yes, there's body-hugging leather upholstery and a few token touches of timber, with walnut veneer inserts on the doors and around the gearstick. But those concessions aside, the instrumentation is sparse, confined to a speedometer, rev counter, fuel and temperature gauge. A row of warning lights underneath the gauges fulfil all other notification tasks. There are even some blanking plates on the unremittingly dark grey plastic, although the row of chunky switches in the centre is complete and comprehensive, even down to the heated seats. Fortunately, there's no need for them – this is a sunny, dry day, which is just as well as a Lotus Carlton on an icy or cold winter's one is a much less happy prospect. Although, at first, it's all rather pedestrian. Bearing in mind that this is one of the most hallowed sports saloons of its era, you initially have to dig deep to unleash its inherent abilities.
There's no dramatic roar from the exhaust on start-up, and the idle burble is softened by sound-proofing. Moving off, there's little to distinguish this car from a more ordinary Carlton, save for the heavy clutch and the somewhat baulky, agricultural ZF gearchange. There's definitely a surfeit of power, but you need to wind the car up enough to stir the two turbochargers for Lotus' tweaks to become properly apparent. And that requires a suitable stretch of road. With a clear stretch ahead, what the Lotus is capable of becomes astonishingly obvious. You don't need to push the accelerator that far to unlock supercar levels of acceleration once the rev needle climbs past 1500rpm and the Garrett turbochargers come into play.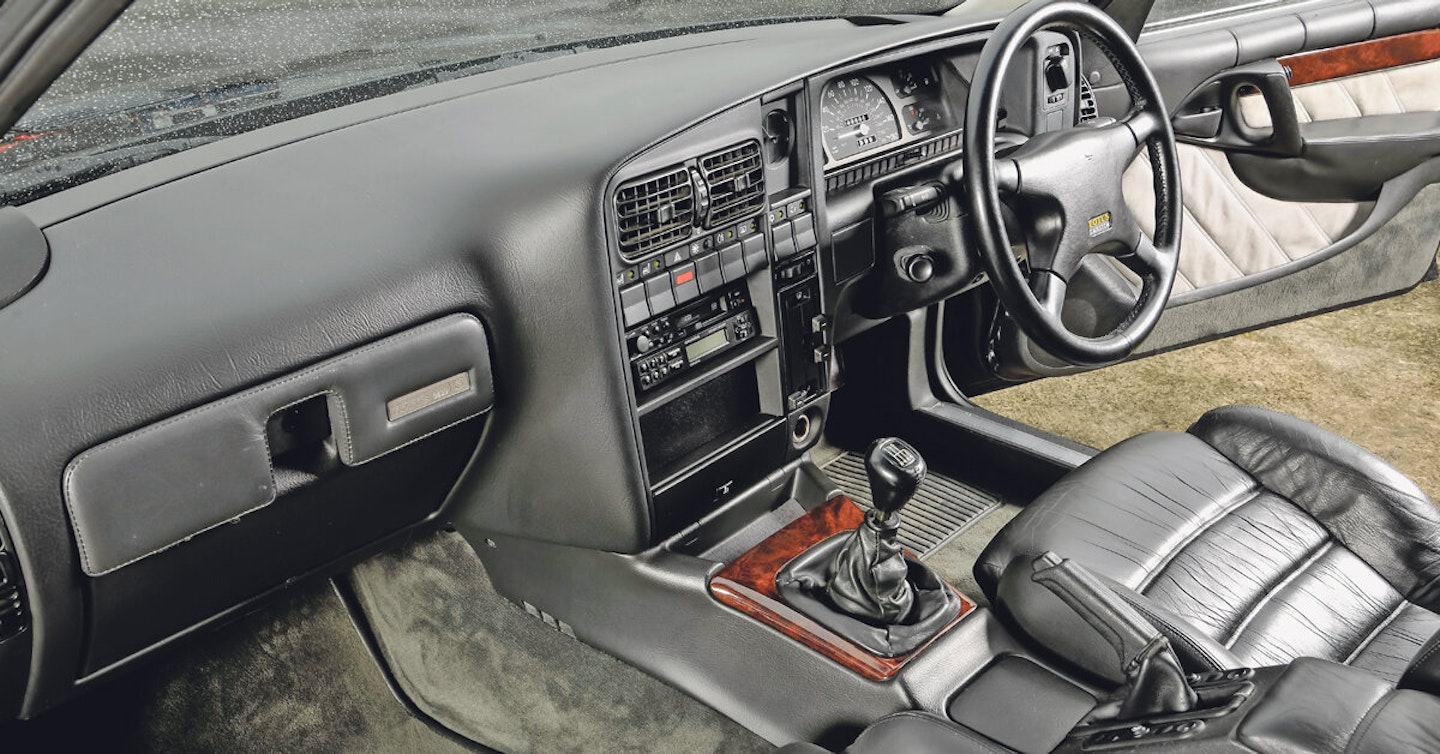 That the Carlton remains so planted is a testament to Lotus' modifications to the Carlton's already competent suspension for, although you need to grip the wheel tightly, there's little twitchiness as the velocity rapidly increases. It is a phenomenally fast machine, and the legal limit surges up in hardly any time at all. Once you're there, sixth gear drops the revs to just 1500rpm, barely ticking over, saving fuel so enthusiastically gulped by the other ratios. Handling is superb – there's very little roll, power steering that varies with speed and a chassis designed for close to 180mph. Doing less than half that barely even tests the stable, firm suspension. This is a car that feels safe and secure under almost all circumstances that you could drive it today as a classic. And that it's still so competent 30 years on is testimony to how bewilderingly good it was in its day.
1 - Daily Driving
The Lotus Carlton is based on an everyday saloon that was intended to be used for daily driving duties, so it won't exactly be stretched by the task today. Yes, you might feel a little dubious about just leaving one parked in the street, given their value today and how notorious they were for getting stolen in their heyday. But back then, there was little else that could equal their performance, hence their nickability. That's much less the case now. You'll pay a fuel penalty for urban use, but on longer trips, the very relaxed top sixth gear – rare in a car of that era – means a Carlton is surprisingly economical, with over 30mpg possible, if driven responsibly.
2 - On The Show Circuit
Despite its familiar looks, this is a very specialised machine. Lotus comprehensively sifted through all the mechanical aspects and changed a great many. So while some parts are the same as in common-or-garden Carltons (and other Vauxhalls), a lot is relevant to just these limited edition models. There are clubs and online forums out there that will be a great assistance when sourcing parts, but specialists are few and far between, Northamptonshire- based Agamemnon being one of a select bunch. Parts can be very pricey too. Fortunately, general servicing is pretty straightforward, as the layout is basic Vauxhall, although there isn't a lot of working space under the bonnet.
3 - In The Service Bay
There will be plenty of opportunities to celebrate the Lotus Carlton's 30th anniversary throughout this year. There are plans for Vauxhall Heritage's own example to be part of a circuit parade at the Silverstone Classics (July 31 to August 2), which itself is celebrating its 30th birthday this year. Vauxhall's Lotus Carlton will also form part of a static display at Shelsley Walsh's Classic Nostalgia event and be one of the 'hero cars' that will feature as part of the Vauxhall – Made in Luton exhibition at Stockwood Discovery Centre from Monday 6 April to Sunday 6 September. Exact dates of when the Carlton will be on display at Stockwood though are as yet unconfirmed.
4 - The Long Weekend
A Lotus Carlton will happily seat four people in spacious, air-conditioned luxury. And the boot is enormous – wide, long and deep – so there won't be any problem consuming all their luggage too. If you need to squeeze more in, there are split-folding rear seats, while en-route entertainment is taken care by the hi-spec CD player that came as standard. The long-limbed abilities of the Carlton will polish off any trip in the minimum of time; in fact, it's as a grand tourer that these Carlton flagships most come into their own, for driving them on motorways is even more relaxing than most modern machines, thanks to the lethargic sixth gear, which sees the revs just drop away.
5 - The B-Road Blast
With handling conforming to Lotus levels of precision, with minimal body roll, excellent brakes, and blistering acceleration throughout the range, it's almost impossible not to enjoy a B-road in one of these. Granted, it's quite a large car, so go for a wider cross-country route rather than a narrow rural by-way. A bendy, undulating B-road will showcase many of this hot Carlton's well-balanced handling talents, and there's adequate power to make use of faster sections and to get past any ambling vehicles ahead. Admittedly, the ride's on the hard side, but steering and suspension are beyond anything you might have thought possible from an old Vauxhall.
THE CCW VIEW
The Lotus Carlton was an absolute sensation when it was unleashed 30 years ago. With 20 per cent more power than its nearest competitors, it was practically untouchable and provoked adulation from the motoring press and shock and horror from the general media who called for this 177mph four-seater to be banned. Fortunately, they didn't get their way, and now many modern saloons can easily exceed the Lotus Carlton's specs. But they don't do it in quite the same engaging way. Yes, there's cleverness and electronics here, such as the self-levelling suspension, but more than anything else, the Carlton is a brutal yet usable and engaging tool that does things so well by dint of having been so professionally sorted by Lotus. No wonder it's still such a performance icon.