Faster and flashier TVRs came and went, but no Wheeler-era TVR did everything as well as the Chimaera, which finished on a high. For this reason, it too was one of 2019's Market Stars…
TVR Chimaera 450:
Engine: 4556cc/V8/OHV
Power: 285bhp@5500rpm
Torque: 319lb ft@4500rph
0-60 mph: 4.7sec
Fuel consumption: 15-20mpg
Transmission: RWD, five-speed manual
What To Pay:
Project: £5000-10,000
Usable: £12,000-18,000
Good: £19,000-25,000
Concours: £30,000+
The TVR Chimaera's ten-year career showed off the Peter Wheeler era at its best. A shrewd amalgam of power, style and comfort, Bristol Avenue's entry-level model began its career taking the fight back to Morgan, MG and Marcos and finished it in the shadow of the spectacular cars that it helped to bankroll – the Tamora, T350 and Tuscan. As the latter was battling Ford Explorers and Lincoln Navigators in the John Travolta film Swordfish, supplies of the Rover V8, Griffith and Chimaera were running down. That the Chimaera – appropriately named after a hybrid of mythical beasts – offered so much for so little was due to its skilful use of bought-in componentry, elevating it above its small-scale contemporaries. If a Griffith or Cerbera was too daunting for a first-time sports car owner, a Chimaera offered 90 per cent of the experience with a more approachable air. It's with this in mind that I approach Neil Craddock's 2002 Chimaera Limited Edition 450 – the last of the line.
Décor does so much for a cabin – and Bristol Avenue knew the Chimaera backwards by 2002. Gone are the earlier cars' cream hide and warmly faced dials; Neil's 450 has pale leather and matching dials, complete with a digital odometer that only arrived on the very last Chimaeras. The aluminium switchgear is far more solid than the former car and it's a small irony that Neil's car, one of the last 98 Chimaeras made, has a wood fascia as standard. Otherwise, the control layout remains the same – well-padded seats, a slightly offset pedal box and a fat transmission tunnel dominate. TVR knew its market – the Chimaera and Griffith had the least intimidating interiors of all the Wheeler-era cars; early models went heavy on the wood and leather ambience to emphasise their luxury Brit GT credentials. Fire up, and the stubby five-speed falls well to hand, the throws and ratios of the 450's Borg Warner T5 is a deal smoother than the gritty LT77 fitted to very early Chimaeras. Well-weighted, sensitively-valved power steering takes the weight out of manoeuvring too; it was an option on most Chimaeras but Neil's car has it – all the better for turning the 16-inch wheels fitted to these last models. You still use a three-spoke Personal wheel to string the bends together – and while it looks the same as earlier cars, Neil's LE 450 stands at the very end of a series of ongoing improvements applied to TVRs as and when the factory could incorporate them.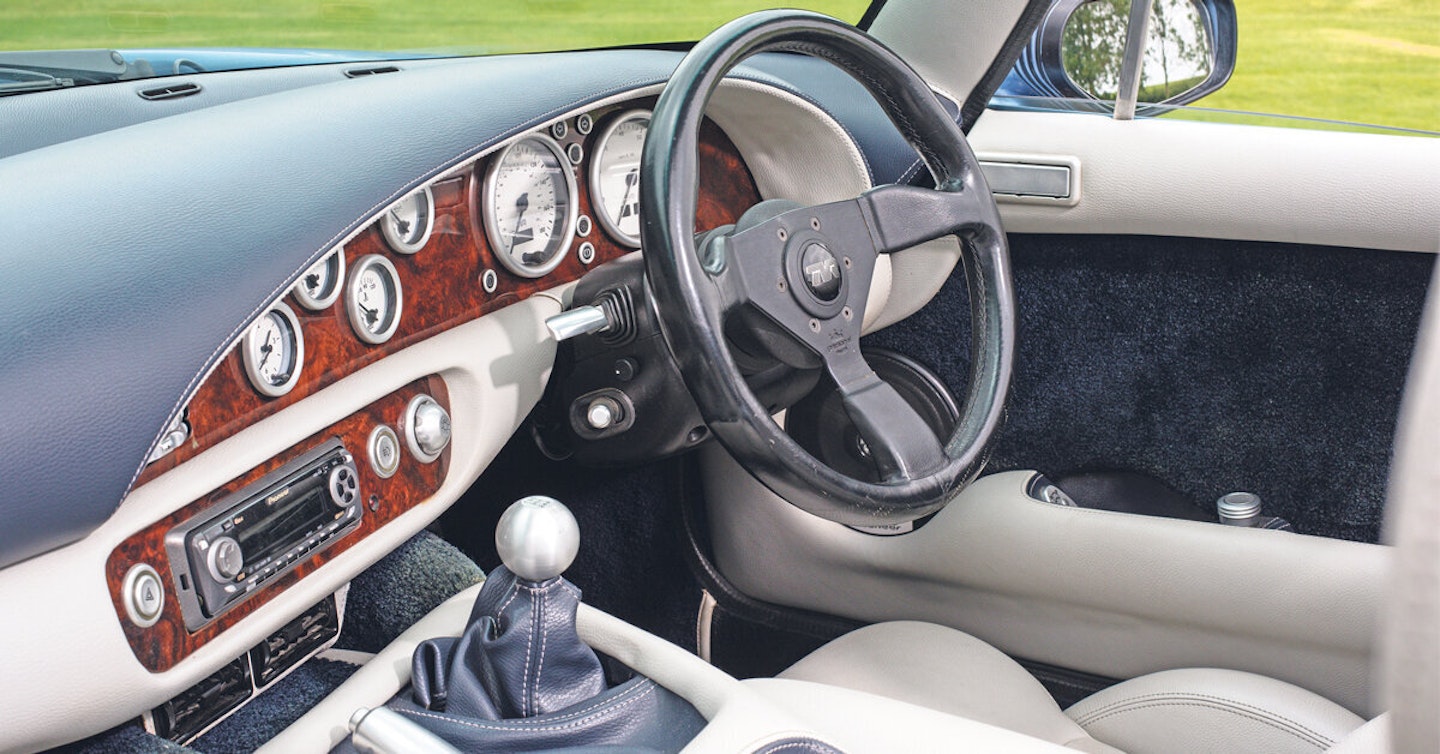 You sometimes hear of post- 1996 and post-2001 Chimaeras being called 'Series 2' or 'Series 3' (MkII or MkIII) cars, but Bristol Avenue never officially referred to them in this way. There's far less tramlining at the helm of Neil's car than there was in earlier 400s that we have driven, too; it was the only real dynamic flaw in those cars' armour. The Chimaera's suspension set-up was as good as it was going to get by 2002; fostering long distance GT aspirations, longer travel Bilstein dampers with softer spring rates marked the Chimaera out from other TVRs. Neil's car is typical of the breed, its wider tyres offering greater grip with the similar insulating squish evident from the fairly high profile carcasses. And what an excellent engine that 4.6-litre V8 is – perhaps a sweet spot among all the TVR Power V8s, the 4.6 was easily the most overbuilt, with cross-bolted bearing caps intended for use in (and developed for) the Range Rover P38A. With far less vehicle to shove around, and with TVR's improvements, the results speak for themselves; while the 5.0-litre cars did offer slightly more power, the bigger engine's main improvement was in the amount of torque that it produced. Neil's 4.6 offers the best of both worlds– most of the 5.0-litre's fat torque curve combined with the smoothness and willingness to rev of the smallest 4.0-litre V8. It's easy to see how a late Chimaera 450 could go the distance if looked after properly; combining the best chassis protection ever offered by the company and the least stressed engine, Neil's car is a throaty bass reminder of how good it was at introducing newcomers to the marque.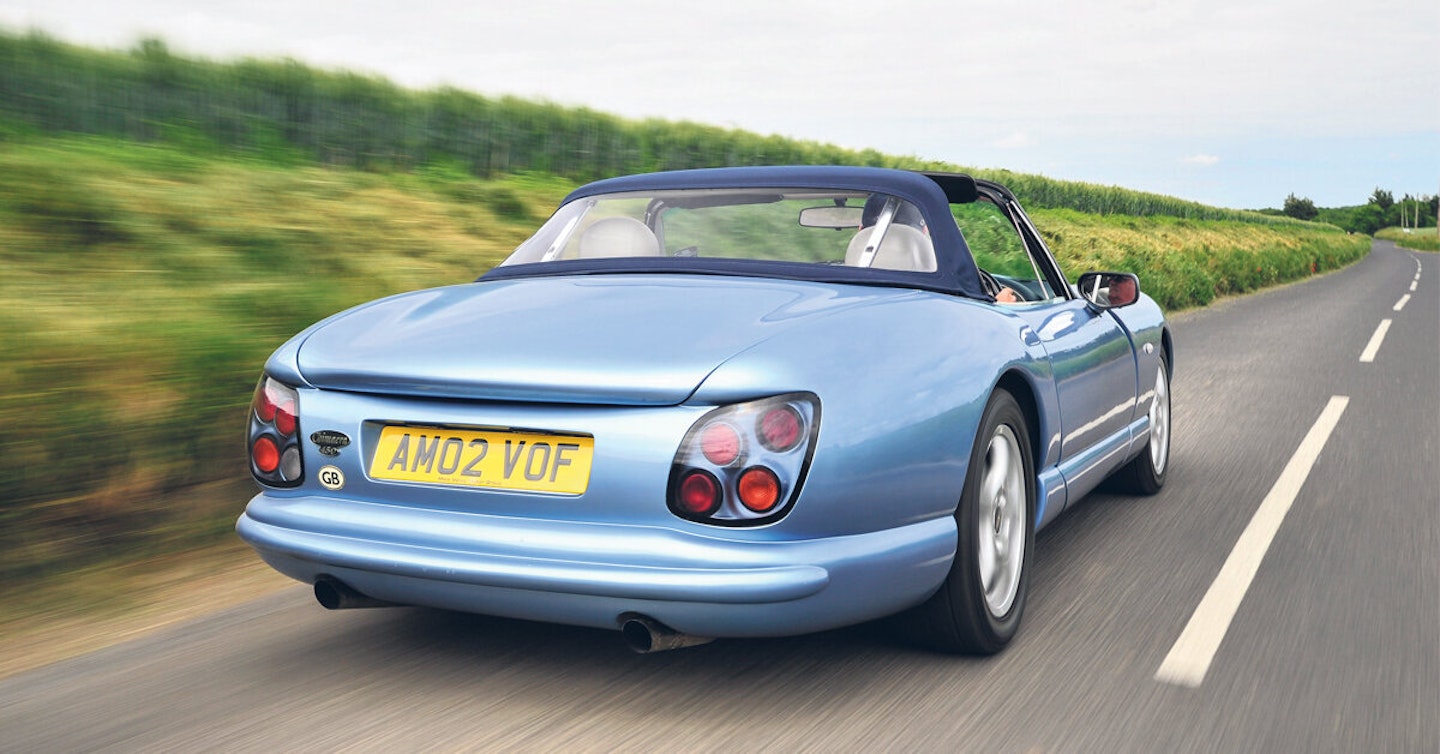 1 - Daily Driving
Slotting a Chimaera into town isn't that difficult, provided you realise its limitations. Its tractable engine means that barely any effort is needed on that long-travel throttle; brakes and clutch are standard Nineties- Noughties fare with servo assistance. Not all models have power-steering however, so pulling away from kerbs and tight reverse parking can be something of a wrench. Ground clearance is fine save for the vulnerable front splitter, which can ground out on sleeping speed humps, even if taken gently.
2 - On The Show Circuit
Few classic shows would turn a Chimaera away because it ticks so many of the boxes that organisers love. Large gatherings of TVRs often bring the bass-baritone to any showground scenario. When you're finished displaying statically, why not put a few laps in on a track day? Race-bred suspension and V8 power mean that any Chimaera can hold its own at an event, provided your driving skills can fully exploit it.
3 - In The Service Bay
Engine bay access is good overall, so the home mechanic can attend to most maintenance requirements. We would recommend joining the BMW Car Club, which can assist with those odd jobs that may flummox you. With the exception of the earliest M10 engines and the twin-cam M42 (which are chain-driven), BMW recommends cambelt changes be carried out on its four- and six-cylinder engines every 36,000 miles or three years. Mercifully, replacement is inexpensive and relatively straightforward. Likewise, all engines have alloy cylinder heads, so it's worth replacing the coolant when you change the oil and filters every year.
4 - The Long Weekend
There may only be room for two inside, but they'll be comfortable. Mechanical longevity is not the issue that many naysayers suggest; Chimaera owner, Ben Coombs, managed a 27,000-mile, 25-country jaunt between pubs in a high-mileage Chimaera 400 with only a failed clutch stopping play. Softer, differently specified and longer travel Bilstein suspension means a Chimaera is better suited to the long haul than the more glamorous Griffith; a wider and longer body also means a roomier cabin and a capacious boot – famously designed to accommodate two bags of golf clubs.
5 - The B-Road Blast
Faster B-roads are the Chimaera's element –it copes just fine with twists, off-camber bumps and undulations, while straighter sections allow the engine to flex its muscles. Unassisted steering comes to life at speed – and proper footwork mitigates the lack of ABS and traction control. The Chimaera might be tame by TVR standards but it's still a lightweight rear-wheel-drive V8 sports car. A rear anti-roll bar helped wheel deflection from day one – it didn't appear on the twitchier Griffith until 1996.
THE CCW VIEW
Calling the Chimaera the 'everyman' TVR isn't doing it the disservice you might think. For those put off by tales of unreliability, histrionics and flip paint – better associated with its successors – the Chimaera was peak Wheeler-era TVR. The last TVR to be powered by a Rover V8 from start to finish, the Chimaera character acted as tribute to that engine's versatility. Had the Chimaera not been so successful, the later wilder, better-remembered straight-six and V8 models built entirely in-house may have never come to fruition. Today, prices are on the rise, but unlike the other market stars selected by Richard Hudson-Evans in this issue, Chimaeras appear at auction far less frequently, being sold privately and with a sizeable proportion through word of mouth among the excellent TVR Car Club. Invaluable advice on its part will also ensure that you bag a good one that you can begin enjoying straightaway.