Remember when one of the best TR6s on the market could be yours for less than ten grand? It was practically a given just 20 years ago, and the same sum guaranteed you something that while not perfect, would be the envy of many at any car show a decade ago. Today, anyone who puts a TR6 on their driveaway for £10k either has a sixth sense for deals that would make Mike Brewer jealous or enjoys spending more time fixing bodges than actually driving.
Where a combination of Sixties Michelotti styling and fuel-injected performance – not to mention a fleeting production run – led to TR5 prices skyrocketing, rises for its long-lived Karmann-styled replacement have been rather more gradual. Until this year, that is, when the average price paid at auction for one rose from £14,750 to nearly £21,000.
The TR6 in Historics' Tenth Anniversary sale in July – which underwent a £70k resto and sold for £57,732 – is partly responsible for this jump. Remove it from the equation, though, and that average is still more than £18k. So, is it game over for fans of the 'affordable' TR6? Not necessarily.
A quick glance at this Pimento Red 1974 example reveals that it's not standard. The chrome bumpers have been removed, there's a different chin spoiler and it wears eight-spoke Panasport alloy wheels. Inside are Revington TR bucket seats with four-point harnesses anchored to a roll bar. The engine remains largely standard, though, with an aftermarket air filter and cooling fan the only notable alterations.
Sitting low behind the wheel and pinned in place by the harness, much here will seem familiar to marque fans, especially the trademark wooden dashboard, dominated by a pair of gauges directly in the driver's line of sight.
Then, once underway, you're treated to what has to be one of Britain's finest six-cylinder soundtracks. It's a delicious deep burble at low revs then builds to an intensely addictive howl as you climb past 3500rpm. It's this rich bellow that eggs you on – there's a real sense that this TR6 is constantly straining at the leash.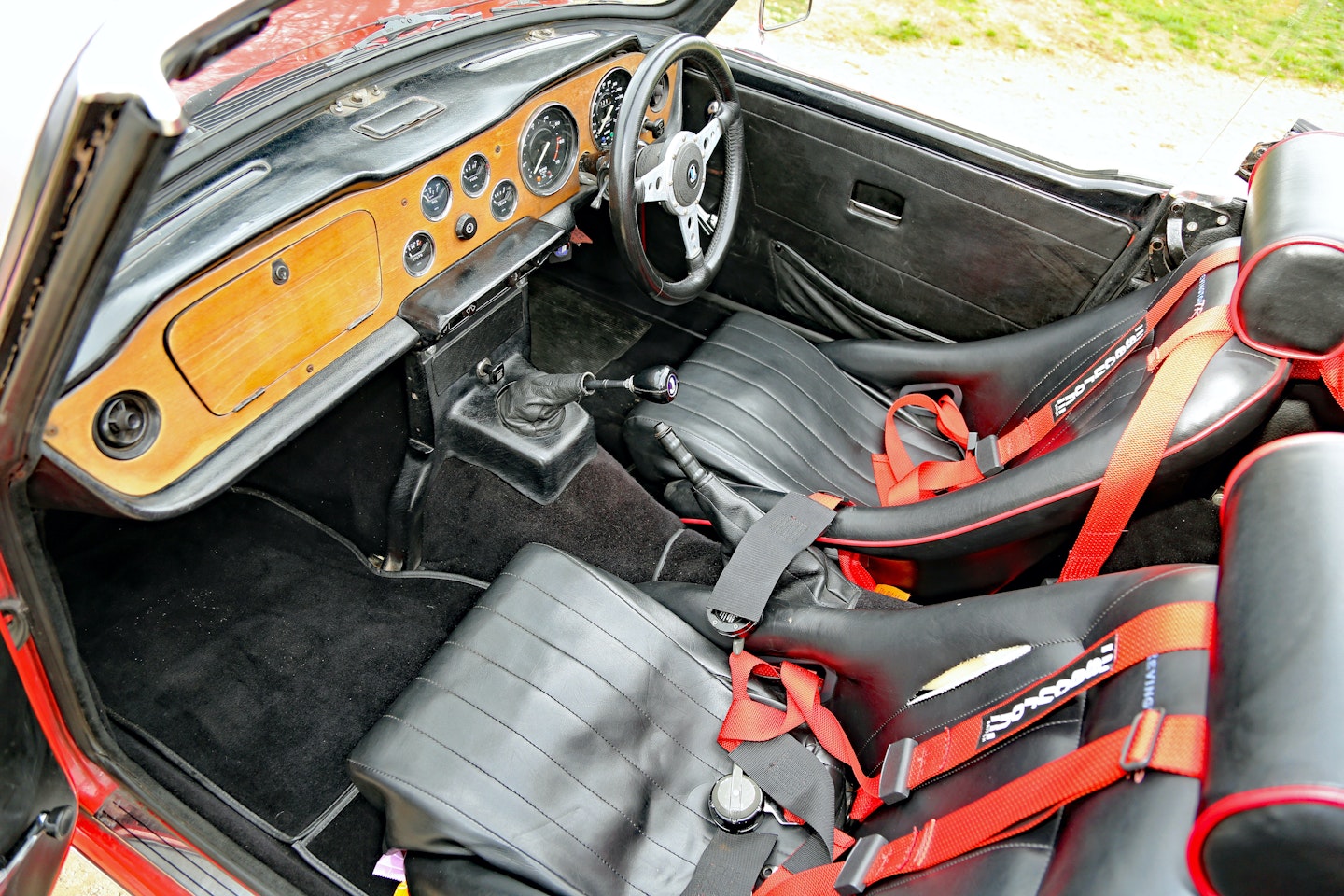 Truth be told, though, what was deemed good performance back in the day is merely adequate now. British Leyland tweaked the TR6 with a more robust camshaft profile to improve flexibility and refinement in 1972, but this meant a 25bhp drop in power. As such, the TR6 relies more on its fabulous exhaust note than its ability to pin you to your seat as it heads for the horizon to set your pulse racing.
It's a trade-off worth making, though, because the engine remains responsive and pulls strongly seemingly at idling speeds, removing the need for precision gearchanges and ensuring that the TR6 is as capable on undulating tight back roads as it is on dual carriageways. What's more, there are several well-trodden routes to balance this deficit should you so choose, including replacing the occasionally truculent injection system with a pair of SU carburettors.
'Our' car's engine hasn't been messed with and nor has its running gear. The TR6 features semi-trailing arm independent rear suspension and sits quite low to the ground. This, in addition to being stiffly sprung, makes for very stable cornering – there's no hint of body roll from behind the wheel – while the slow in/fast out approach to sharper bends ensures that the car remains firmly planted to the road. It feels safe and inspires confidence.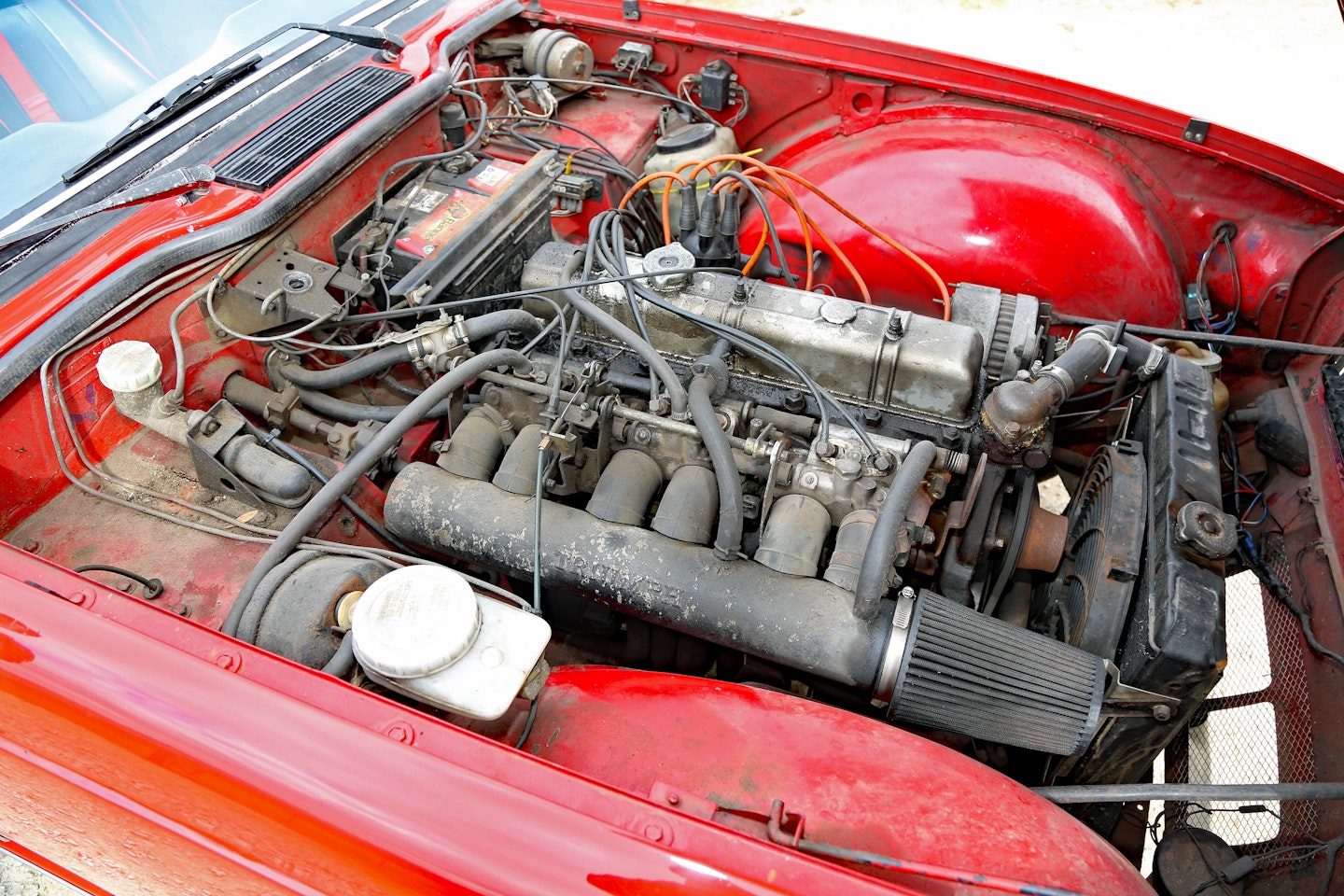 Driving a TR6 enthusiastically does require a fair amount of effort on your part, however. The clutch is quite heavy and although the gearbox has a pleasingly short throw between changes, it's quite agricultural so needs a dollop of muscle to engage each ratio. Most TR enthusiasts wouldn't have it any other way, though.
This particular TR6 isn't currently for sale – it's actually part of a fleet of classic hire cars – however, it is exactly the sort of car that fans of these no-nonsense six-cylinder Triumph sports cars should be seeking out if their budget can't stretch to current £21k average being paid.
Cars that are either well-persevered or have been sympathetically restored to better than original standards are currently having the biggest sums paid for them. Going for a TR6 like this – one that has been subtly tweaked and seen plenty of use, but has also clearly been well looked-after – is to our mind how you beat the price rises.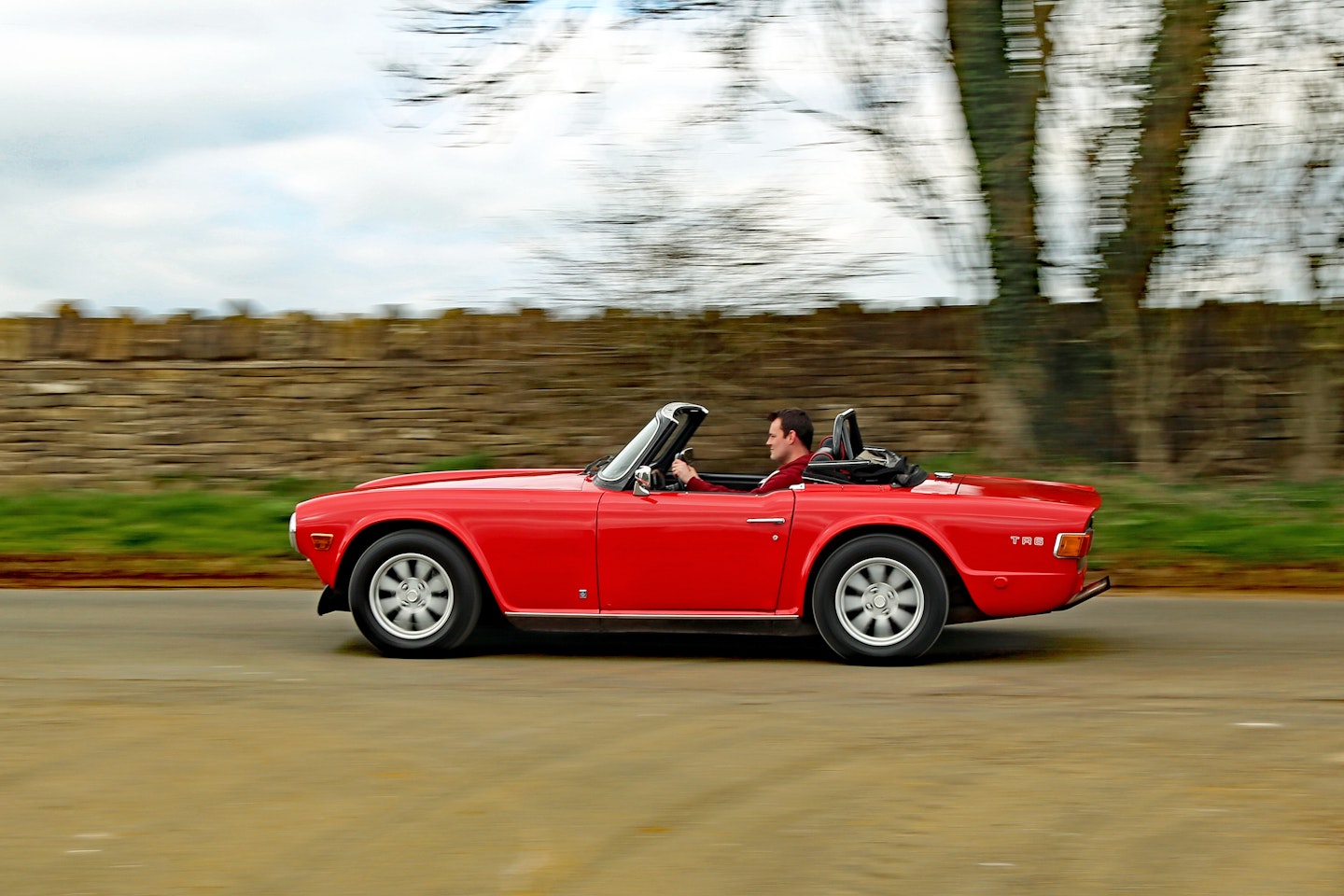 DAILY DRIVING
Although we can imagine that plenty of enthusiasts might happily say that they'd use a TR6 regularly, its heavy controls might soon see drives around town that were once considered a joy becoming a bit of a chore. The steering is very weighty, for parking manoeuvres in particular, and make no mistake, this is no Spitfire; there's no taxi-like turning circle here. Repeated use in traffic might also see your leg tire from constantly operating the clutch. That said, visibility down the bonnet is good, with the wings making it easy place the car on the road.And, compared to modern monsters, it's quite a small and narrow car, too.
LOOKING AFTER IT
TR6s aren't difficult to maintain, but there are several basic home-servicing tasks that need to be carried out at regular intervals. Ideally the front suspension should be greased every 1000 miles to avoid costly future repairs – heavy oil is preferred to grease according to most of the specialists we've spoken over the years, but the important bit is that they're lubricated with something. An oil and filter service should be carried out every 3000 miles or annually – spin-on filters are available and improve oil circulation – and it's advisable to flush and re-fill the coolant system every two years to prevent key components and channels from silting up.
ON THE SHOW CIRCUIT
It's that time of year when outdoor shows tend to become less frequent. However, there's even less going on than usual due to restrictions as a result of the coronavirus pandemic. Suffice to say, then, that any other year owners' clubs such as the TR Register – celebrating its 50th anniversary this year – Triumph Sports Six Club and Club Triumph would have been able to fill your calendar with all manner of local meets, marque-specific gatherings and international car tours. Likewise, when things do get back to normal, the TR6 is a British sports car that will not only be welcomed at any general car show but will be fun to drive there and back – no matter the distance.
THE LONG WEEKEND
The TR6 is not a classic that'll have you shying away from long-distance drives. It's a sports car first and foremost, not a grand tourer, so while some find the original seats perfectly comfortable, others opt for more modern equivalents, such as those fitted to the Mazda MX-5 MkI. Likewise, it's a decent boot given its dimensions, though some choose to fit a luggage rack for any extras that can't be left at home. It's worth noting that all post-1972 TR6s are fitted with overdrive as standard, which can be considered essential not just for more relaxed cruising but also for helping get more miles from what's inside the 13.5-gallon petrol tank.
ON THE B-ROADS
The TR6 offers fantastic handling, as you would expect from what is one of Britain's favourite sport cars. To a point, the trade-off is quite a firm ride. It's compliant for the most part, but a degree of scuttle shake on uneven road surfaces serves as a reminder this is a separate chassis sports car of the old school. It doesn't mean that you're constantly scanning the road for potholes, but there are occasional rattles over genuinely uneven surfaces that can jar with the overall driving experience. For what you get as a whole though, particularly in terms of outright handling on the twisty stuff, it's frankly a rather minor complaint.
WHAT TO PAY
Project: £4000-10,000
Usable: £11,000-15,000
Good: £16,000-28,000
Concours: £30,000+