Do you know, no-one we've asked is able to say what the RM in, Riley RM actually stands for. But maybe I can help. Obviously it's not Routemaster, the name of which is oft shortened to the same initials. Trying to find the answer began to intrigue, then irritate, then almost disturb.
Finally, the other night I woke up with a start to find a ghostly blue diamond-shaped Riley logo dancing on the ceiling. Maybe it was a breeze rattling through my loft's windows but I swear I heard a spectral but booming voice echo in delightfully clipped English tones: 'How can you not know the answer, you imbecile? RM means "Ruddy Marvellous!" Tell everyone that in your pointless 2016.'
Ruddy Marvellous. Just the merest glance at our test car and you'll see why. That expression may have seemed caddish when these cars were new but is so much nicer than today's lesser world of disenchanted and disconnected loudmouths bullying away in their new Audis and BMWs en route to Primark, via KFC.
The RM really is the essence of immediate post-war classic motoring in a single package. Indeed there is even a lot of pre-war spirit here, but in a car so much easier to drive and live with than many of its contemporaries.
Forget MG. To many a motorist in the 1930s and beyond, Riley was the purveyor of affordable and innovative sports cars. 'As old as the industry, as modern as the hour' was the company's motto. Ground-breaking engineering, turbo-cooled brakes (in 1919) and superb engines characterised the cars.
That was until Morris took over in 1938.
Fear ye not, for Riley was allowed a fair degree of autonomy in pre-BMC days and the first RM, the 1½-litre RMA, had the great twin-cam, overhead valve engine, along with other bonuses such as front torsion bar suspension, rack-and-pinion steering and hydraulic brakes.
Our test car here is a later RMA, with some improvements such as a larger rear window. There's just about every styling cue you could want from this era on these vehicles: sublime, flowing, running boards (on most models, though not our 1954 RME), a split windscreen, centre hinged bonnet and a wonderful chrome radiator. Open the rear-hinged 'suicide' driver's door and you are back in a 'proper' car cabin, with beautiful, soft, green pleated seats, a vast spoked steering wheel you'd expect to see in a something at pre-war Brooklands, more polished woodwork than a Victorian library and a lovely instrument panel featuring what appears to be a line-up of town hall clocks, both round and square. Actually one is a clock but we also have a speedometer, ammeter, oil pressure gauge and fuel level dial.
Activate the starter, ease the delightful short throw gearlever into first, dig for the handbrake and we're off. Performance from the 1½-litre engine isn't going to subject you to G-forces but it is a lovely flexible unit with an urgent sound, accompanied by wonderful gear whine. What a place to be, looking out through the split screen over that bonnet, the wings gently falling away and… well, it's almost all too much. It's Ruddy Marvellous.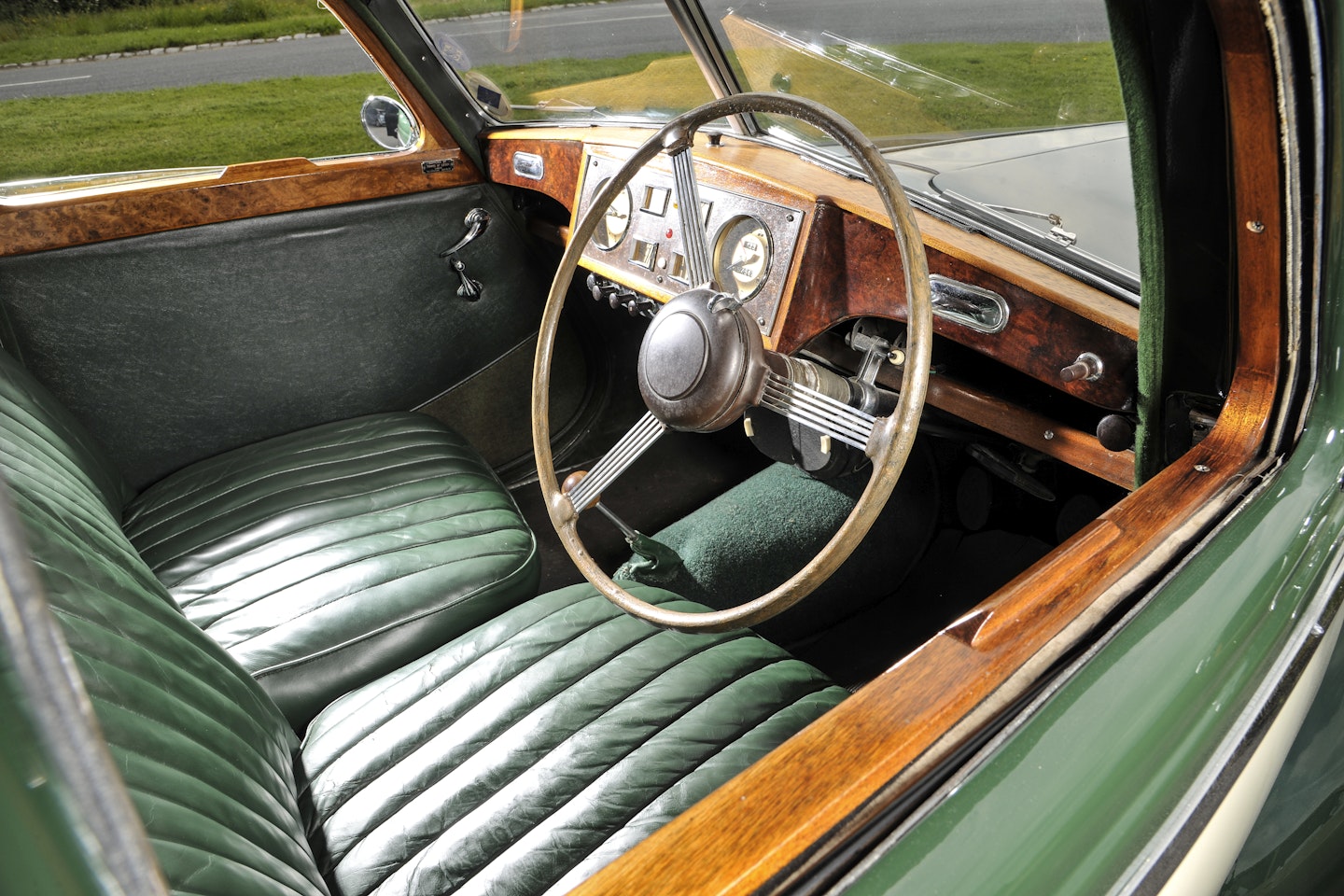 DAILY DRIVING
So if you are lucky enough to own a Riley RM, is it really suitable for everyday use in modern traffic? Well, a lot of owners tend to use their cars regularly, and a 2½-litre RM will more than stand its own in modern traffic.
Bear in mind that 31 seconds officially elapse before the smaller-engined version hits 60mph and it's maybe not the best motorway transport. The car will cruise at 60mph, though, and the engine has plenty of low-speed torque which is useful for those urban roundabouts, and the brakes are excellent for a car of this era. It may overheat in long traffic queues, so it's worth fitting a Kenlowe fan.
LOOKING AFTER IT
Your local Halfords auto centre might not relish the prospect of setting its apprentices onto a pre-war design twin-cam engine, but all is not lost. The Riley RM Club (www.rileyrmclub.org.uk) staunchly believes the cars should be used, and its spares operation, the Riley RM Centre is British Motor Heritage-approved – it really is that good.
Everything from condensers and other service items to steering racks and manifolds can be supplied, as well as access to expert help. You might not always get next day courier delivery but they are quick.
Once set up, the cars are straightforward to maintain and work on, but they do need regular greasing as dictated in the service book.
ON THE SHOW CIRCUIT
The RM is surely one of the best ambassadors the classic car movement has, and you could take it to just about any car gathering that doesn't centre around drifting.
These are the type of classics that just make friends wherever they go. The cars are so usable that there's no need to just gingerly drive one to a local static event and spend the day squatting uncomfortably on a deckchair by the car, wondering if you'll get home. Nah, get out there on a classic run. The car will happily hold its own in any traffic and you'll love every minute of the event, as will many others!
THE LONG WEEKEND
You could almost spend a weekend just sitting in an RM savouring the ambience and let your mind enjoy a seemingly endless loop of 1950s imagery as The Billy Cotton Band Show echoes from the radio. But it's far better just to press the starter and point the car anywhere. It'll be happy. An RM is comfortable and there's loads of room for four inside. Even the ride is good, and relatively soft and cosseting considering that underneath you lurks a rigid chassis. You should emerge from a long journey not shaken, but with emotions happily stirred. Expect around 25mpg by the way.
There's plenty of space for both spares and suitcases in the boot, and who needs air conditioning when you can open a window?
ON THE B-ROADS
No roads should disturb an RM from getting on with the job, though if we're blasting along, the larger-engined cars might be best. Any RM will give you handling and roadholding far above not only contemporaries but many newer cars.
The steering is nicely weighted and precise, an excellent rack-and-pinion set-up in fact. Once you're used to the size of the steering wheel you can happily thread it through your hands. There's a lot of communication from the steering. Obviously you get some understeer but judicious use of the accelerator almost eradicates this, and body roll is kept to a minimum. The clutch isn't too heavy, the brakes are good and the only problem is choosing which of your favourite B-roads to put your RM through its paces.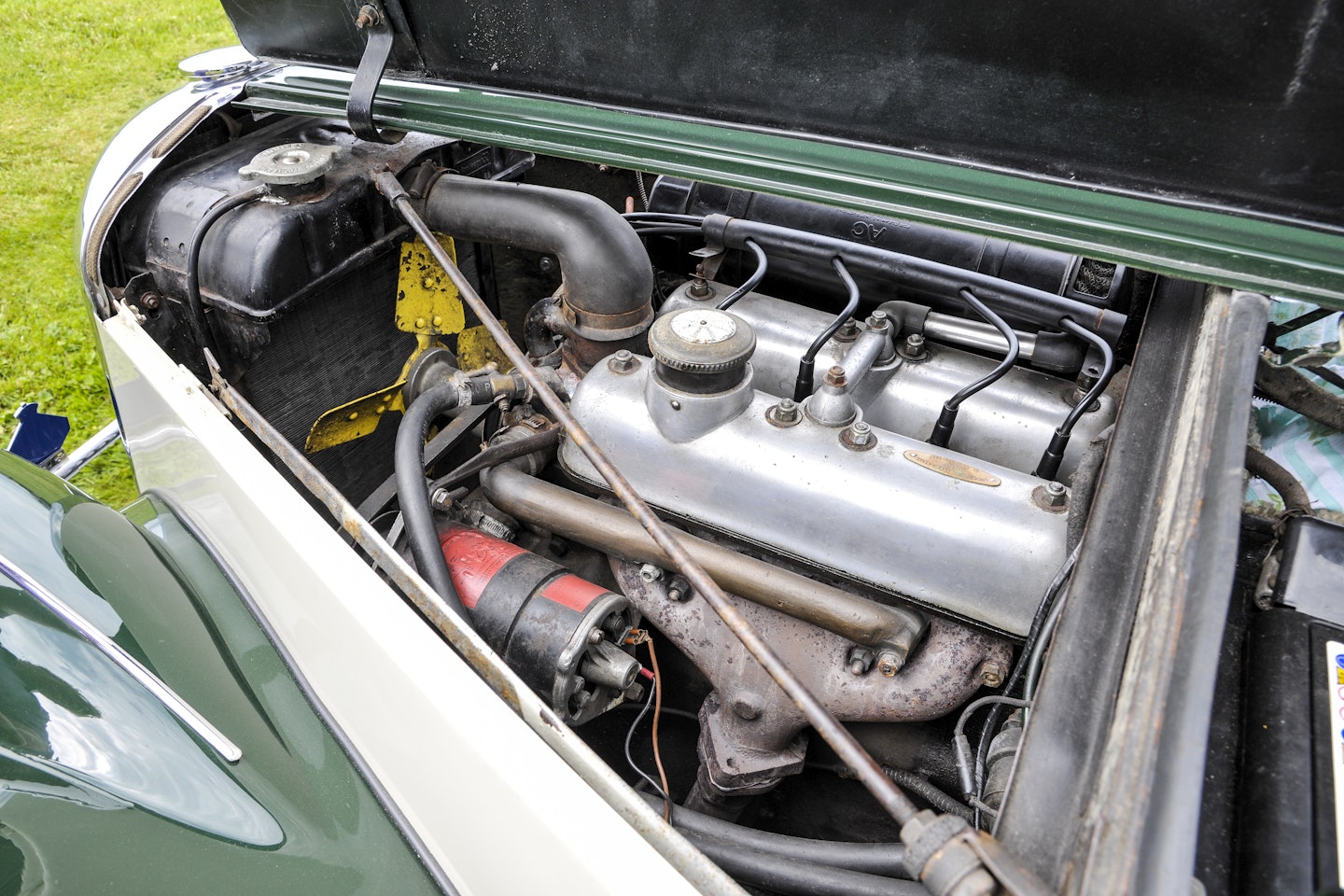 WHAT TO PAY
Project: £5000-8000
Usable: £6000-12,000
Good: £10-19,000
Concours: £20,000+