Ford's two-door champion is one of today's market stars, with values. Chris Hope gets behind the range-topping 2.8 Injection to find out what makes it such a hit with classic fans
The Ford Capri, a coupé that had enjoyed phenomenal success since the Sixties, but whose popularity was sliding by the early Eighties, definitely enjoyed a comeback mid-way through its third generation.
As beloved as the three-litre Essex V6 was by Ford fans, it was no longer capable of meeting increasingly stringent emissions regulations. This could have spelt an end for beefy six-pot Capris, but a solution came courtesy of Ford's Special Vehicle Engineering (SVE), which mated Bosch K-Jetronic fuel injection to the 2.8-litre Cologne V6, producing an engine that maintained the Essex's hallmarks, while being more efficient and more refined.
In the same way that Brian Johnson injected fresh energy into AC/DC, a rock band that could have disappeared following the tragic death of its frontman Bon Scott in 1980, the Cologne engine reinvigorated the Capri.
AC/DC would go on to sell 50 million copies of its album Back in Black, and the Capri would live on for a further five years, ensuring that it became a classic in its own lifetime.
Which brings us neatly on to the subject of this week's Five Trials classic – an all-black Capri Injection Special. From the outside, it's difficult to focus on anything but this particular car's colour scheme, as the paintwork serves to emphasis several subtle details, such as the sunken quad lamps, arrowhead-shaped bonnet bulge and swage lines that run along the entire length of each side. It also camouflages the rather cumbersome side rubbing strips and chunky bumpers, fore and aft.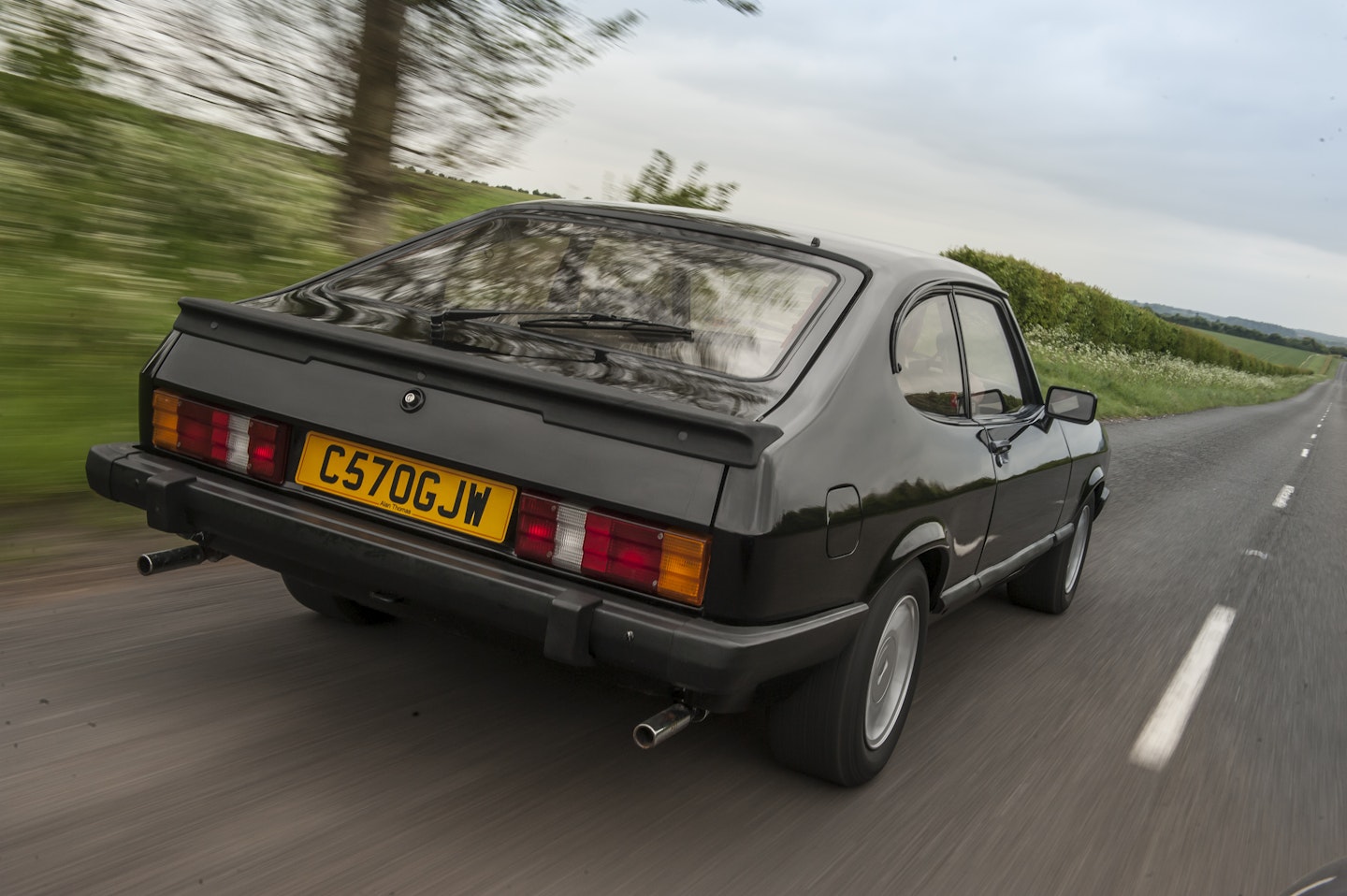 It should have a set of burgundy and silver decals on its rump and along its flanks, but its previous owner removed them. A replacement set of has been procured from Capri Club International so the car's next owner can decide whether or not to apply them.
Inside, it's basic in the extreme. Granite grey is the dominant colour – that, and more black. The sloped dashboard, which falls inwards towards the front of the footwell rather than jutting outwards, not only adds to the uncluttered, minimalist feel but creates a sense of airiness within the cabin. From the lack of switches to the fabric pattern of simple diagonal stripes, it's all rather workmanlike.
The Capri sounds just as you might expect – it ticks and snarls, growling progressively as the revs build, only to emit a rasp as you lift to change gears. Enthusiasts of the Essex three-litre might argue that the Cologne loses out in the aural stakes, but as far as most Fast Ford devotees are concerned it still sounds superb.
Simply put, it looks like a muscle car in miniature and it barks like one, which is why the unexpected lightness to all of the controls comes as something of a surprise. The power-assisted steering is light and precise with zero play and it's a doddle to change ratios cleanly and crisply. A few further miles reinforces my thoughts that the Capri is supremely user-friendly; sure, it's fast, but it's how the Cologne V6 pulls without hesitation that really impresses. Whether you short-shift or make full use of the rev range to delight in the V6's throaty roar, the result is the same – it builds speed without complaint.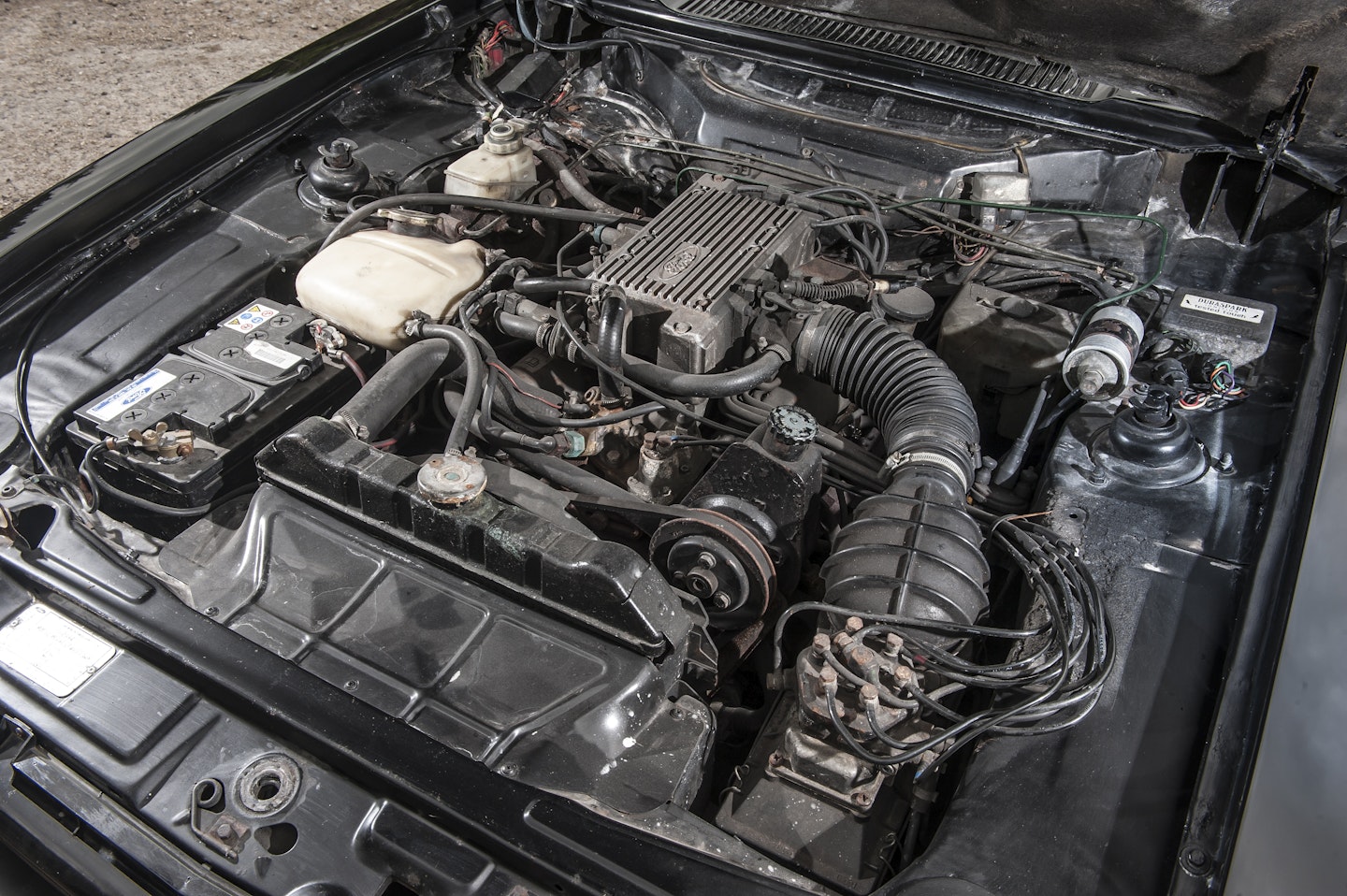 This particular Capri is an Injection Special – an update of the 2.8i which most notably saw the addition of a limited-slip differential, further improving its excellent cornering characteristics. The Capri remains impressively flat through even tight bends and grips remarkably well, quickly inspiring the confidence to attack corners with gusto. The seven-spoke RS wheels are shod in chunky tyres, which perhaps go some way towards explaining why the Capri feels so sure-footed.
The trade-off for this is a primitive feeling ride; the suspension does little to dampen the feedback of road imperfections. It's a good thing, then, that the half-leather Recaro seats are so comfortable and do an excellent job of holding you in place.
Perhaps the biggest challenge with a V6-engined Capri is handing one back.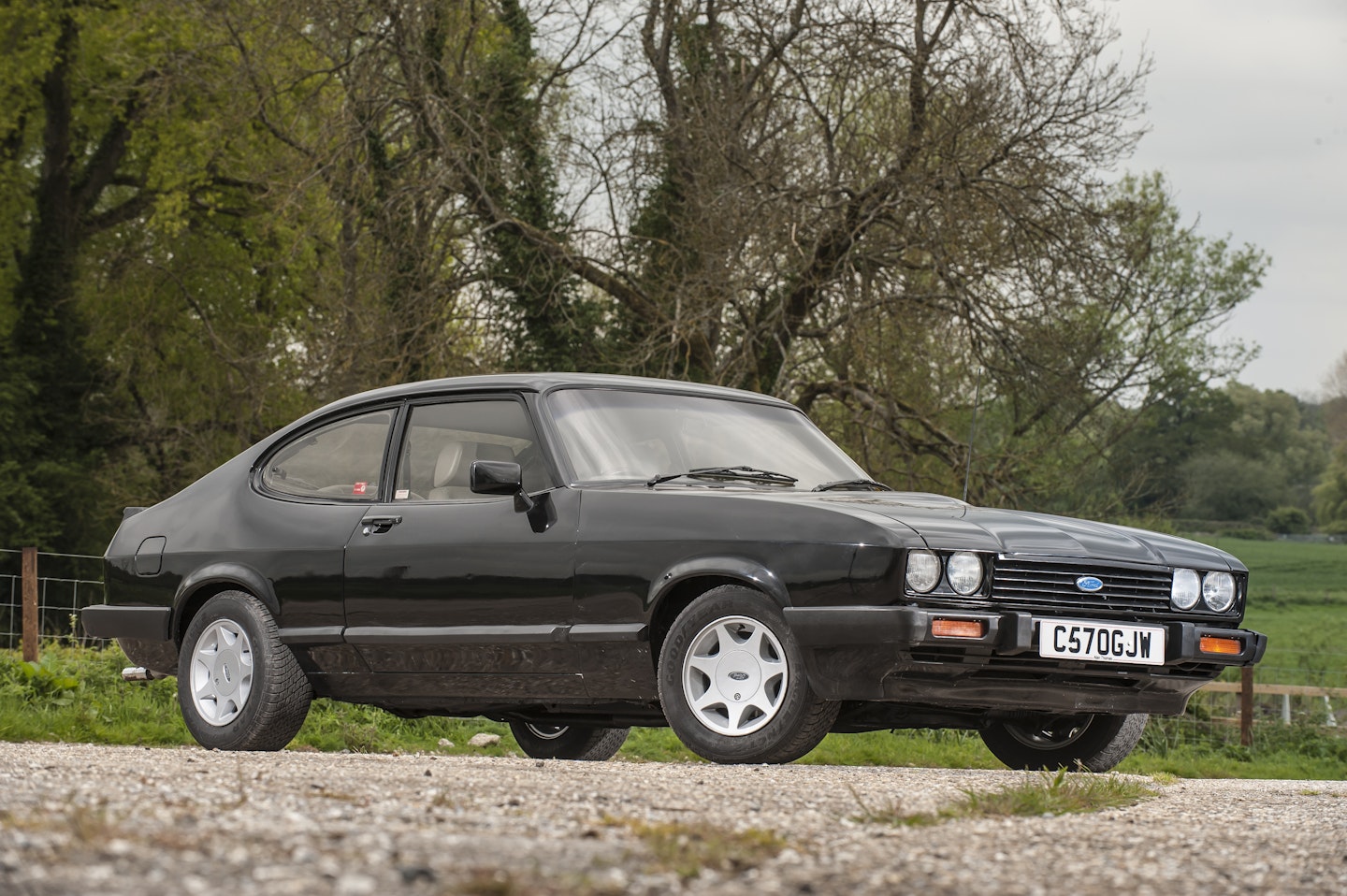 DAILY DRIVING
If economy is a priority then the Cologne V6's thirst (in spite of its Bosch K-Jetronic system) is unlikely to impress, being somewhere in the high teens to low twenties, which is likely to make everyday driving expensive. In all other respects, though, the Capri MkIII is ideally suited to daily transport, given how easy it is to drive. It's comfortable, visibility is good due to the slim pillars and its trademark oval rear windows, and it remains completely unruffled in traffic.
LOOKING AFTER IT
Maintaining a Capri is straightforward. Access to engine bay service items is good, with the distributor, battery and even the washer fluid reservoir not obscured by hoses and pipework. Sourcing parts to complete an annual service shouldn't be much of a bother either, with marque specialists and general motor factors able to assist. As such, if you fancy looking after a Capri from the comfort of your own driveway or garage, there are few reasons not to do so.
ON THE SHOW CIRCUIT
Expect your weekends to fill up quickly with a Capri – from smaller shows or evening pub meetings to larger events which are either marque-specific or general classic extravaganzas, you'll be welcomed with open arms. It's a thoroughly British coupé that's as equally well thought of today as it was in period. What's more, the Capri's go-anywhere nature (more on that in a moment) means that as long as your wallet can keep up with the fuel bills, it wouldn't be a chore for you and your passengers – or a challenge for the car itself – to visit events at opposite ends of the country over consecutive weekends.
THE LONG WEEKEND
Lifting the rear hatch reveals plenty of room for a holdall or two, space that can be enhanced further by folding the rear seats. That said, if you've a mate or three tagging along for the ride they won't find the rear space particularly cramped. The V6-engined versions of the Capri are perfectly happy cruising at 70mph on long motorway trips. You might find the wind noise tiresome on longer journeys – but that's
a minor grumble at best.
ON THE B-ROADS
While more than capable of covering big distances, it's on minor roads where the Capri does its best work. Ford's rear-drive performance hero has a reputation as for tail-out antics but you'll be surprised at how benign it is;rather than biting back at your exuberance the Capri's way of suggesting that you cool it down is through mild and easily corrected understeer. Have fun, without going too silly, and the Capri won't disappoint.
WHAT TO PAY
Project: £4000-8,000
Usable: £10,000-15,000
Good: £13,000-20,000
Concours: £20,000+