You could be forgiven for feeling a little conflicted as you step over the high sills and settle down into the handsome seats of this beautiful Datsun 260Z. While that dramatic bonnet, unapologetically 'E-type' in its sweeping proportions, might lull you into expecting the veneered interior of a gentleman's GT car, the lack of wood, the low driving position, and the trio of instruments clustered purposefully in the centre of the dashboard, suggest a more focused sort of driving machine. Sporting pretensions and stunning looks, then, but can a near-50-year-old Datsun (the name that Nissan used in the UK prior to 1984) still deliver here and now in 2017?
The first Datsun Zs arrived in the UK in 1970, a year after their launch in Japan where they were called 'Fairlady'. Aiming to do battle with the British in the competitive American market, Japan's offering was decidedly European in concept, with independent suspension, a lightweight bodyshell, agile handling and a 2.4-litre straight-six engine, earning it the 240Z moniker.
The 1974 car featured in our photos (loaned to us by Doug Blair, and fresh from a top-notch paint job) is a later 260Z, its name denoting its stroked 2.6-litre version of the 240Z's engine. UK 260Zs did without the lower compression engine demanded by the US market for exhaust emissions purposes, and so were good for 165bhp and 115mph. This put it squarely in MGB GT V8 territory, but it felt like a much more modern car.
Sales were huge. The 240Z managed about 130,000 in the US alone, much to the embarrassment of British Leyland, with production of the first-generation Z cars totalling 622,649.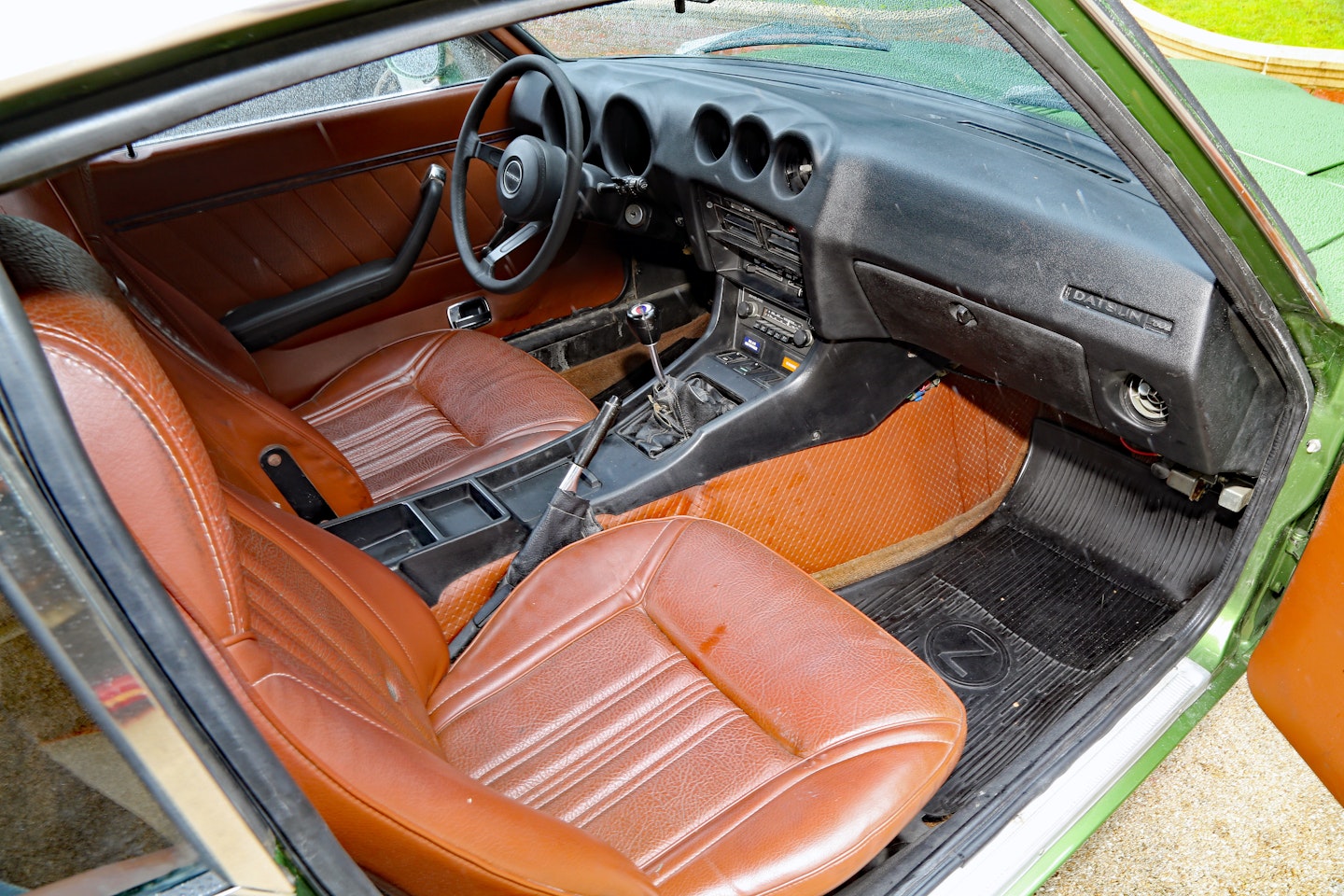 Today, the UK possesses only about 300 of those, so values have soared over the last decade or so. They used to offer a pauper's route into high-performance classic motoring, but now projects start around £5000, and prices continue to rise.
Forget the figures, though; the 260Z is quite simply a fabulous driving machine. Even this American import's slightly strangled engine revs with impeccable sweetness, delivering an impressive surge of power from the mid-range onwards, so there's no particular incentive in thrashing the pants off it. Instead, the throttle prefers to be massaged firmly and booted only occasionally. Meanwhile the gear lever responds best to short and decisive inputs, slotting into each ratio with a clean, positive action, and the brakes – which feel a little woolly if you're too gentle with them – bite heavily when given sufficient encouragement.
It's also incredibly handsome, especially when (like our car) it wears Euro-spec chrome bumpers rather than the lumpen rubber impact alternatives that were required on US models from 1974. Those rear haunches. That Jaguar-esque bonnet. That whiff of Ferrari 250 GTO… there's no question that it's one of the most elegant GT designs of its decade, one that conferred hero status upon its creator, Yoshihiko Matsuo.
If you've ever thought of owning a first-generation Z car, now is unquestionably the time to do it. The days of bagging sound, cheap examples disappeared more than ten years ago, so hop on the Z train while you still can!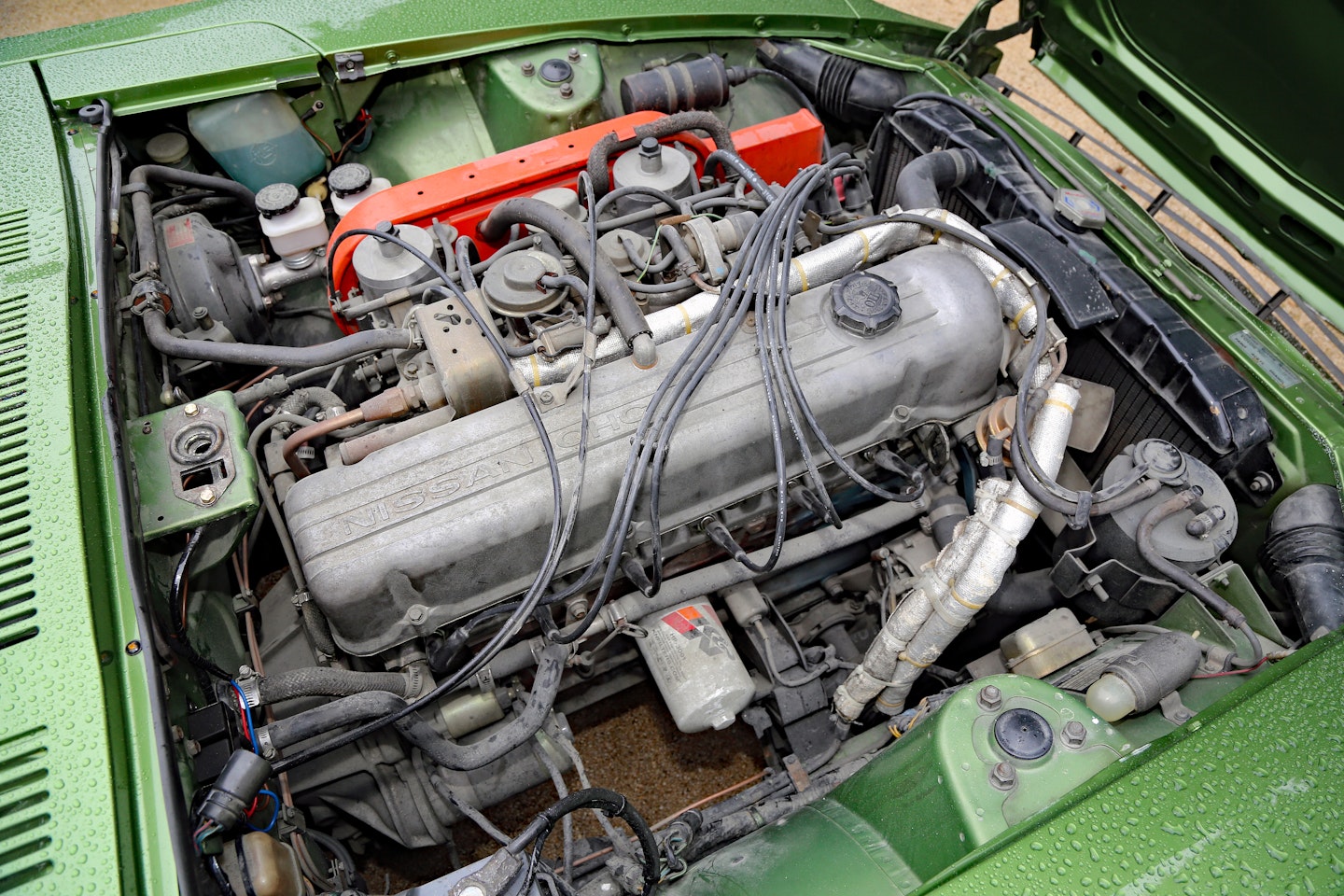 DAILY DRIVING
The fact that a single stalk controls most of the electricals takes a little getting used to, but there's a pleasing Japanese logic to it. There's ample space for six-footers (achieved in the American market by a slightly deeper floorpan), the pedals are comfortably positioned and tools are housed in a separate compartment behind the seats. Visibility is plentiful when you're sweeping through the countryside, and not inordinately terrifying when you need to manoeuvre in to a small space. Ride refinement is a little wanting at speed, but are such things likely to bother you?
LOOKING AFTER IT
Z cars soon earned a reputation for British Leyland-shaming reliability. They offer the weekend enthusiast plenty of manageable tinkering and tuning opportunities, aided by thoughtful little design features, such as inspection flaps in the wings and a wired-in inspection lamp in the engine bay. Whether you want to keep your car stock or pimp the life out of it (see online for some epic builds), parts supply won't cause problems, thanks to the large production numbers. Keeping on top of corrosion is likely to be your main headache, as well as being alert to any dodgy repairs that might make themselves known.
ON THE SHOW CIRCUIT
Early Z cars probably still creep under the radar for some show-goers, but classic Nissans have their own dedicated following, and those in the know will really appreciate what you've got. Don't forget to make friends in the Datsun and Nissan Owners' Club (datsunclubuk.co.uk) and especially the Z Club (zclub.net), which is already making plans for a 50th anniversary event in 2019. If tuning and drag racing are your style, then there's the annual Jap Show (japshow.co.uk) to attend at Santa Pod Raceway, where the 260Z's discreet styling would – ironically – stand out a mile!
THE LONG WEEKEND
Camping trips and caravan holidays are obviously out of the question, but you'll get a few suitcases in the luggage area behind the front seats, accessed from a large, glass rear door, hinged at the top. Storage for odds and ends up-front is minimal, but such shortcomings are more than compensated by the simple driving pleasure offered. Slotted into fifth, the 260Z is a long-legged GT car, thanks to its slightly taller gearing than the 240Z. Pick a distant point on the map, and you'll enjoy every minute of the drive. If you have children, look out for a 1975-on 2+2.
ON THE B-ROADS
Head into the countryside and you soon realise how much enjoyment the 260Z can deliver. It's a beautifully balanced car, with firm, responsive steering and a highly communicative drivetrain, making it easy to exploit the engine's power without risking excursions into nearby hedgerows. Keeping the revs in the mid-range and planting the throttle on the exit of a wet corner results in a delicate little smear of the rear tyres on the road surface, the car's attitude barely disturbed, followed by a suitably smart getaway. A rampant beast it is not, but a poised performer it most certainly is.
WHAT TO PAY
Project: £5000-8000
Usable: £6000-9000
Good: £10-16,000
Concours: £25,000+