Europe's green-fingered types loved this Fiat 500 estate. Four decades after the 'Gardener' ceased production, it now makes an addictive classic – as long as you keep it planted
There's a glorious mismatch between numbers and sensations when you punt an Autobianchi Giardiniera – one of Italy's smallest load-luggers – along narrow British roads for the first time.
Where you'd usually be confronted by an array of dials and gauges, there's just a single readout to muse over when you're on the move – a two-tone speedometer mounted neatly on top of the steering column, with a trio of lights beneath ready to flicker should issues with oil, water or fuel arise. The numbers on this imported Italian market car hit with you the figures in km/h, of course, but from the excitable way it tackles corners, you'd swear blind that it's calibrated in the more familiar – and faster – mph.
That's the Fiat 500 for you – thrills made all the more accessible by its emphasis on about-town agility, not asphalt-blurring oomph. But we reckon going for its bigger cousin actually delivers more driving fun.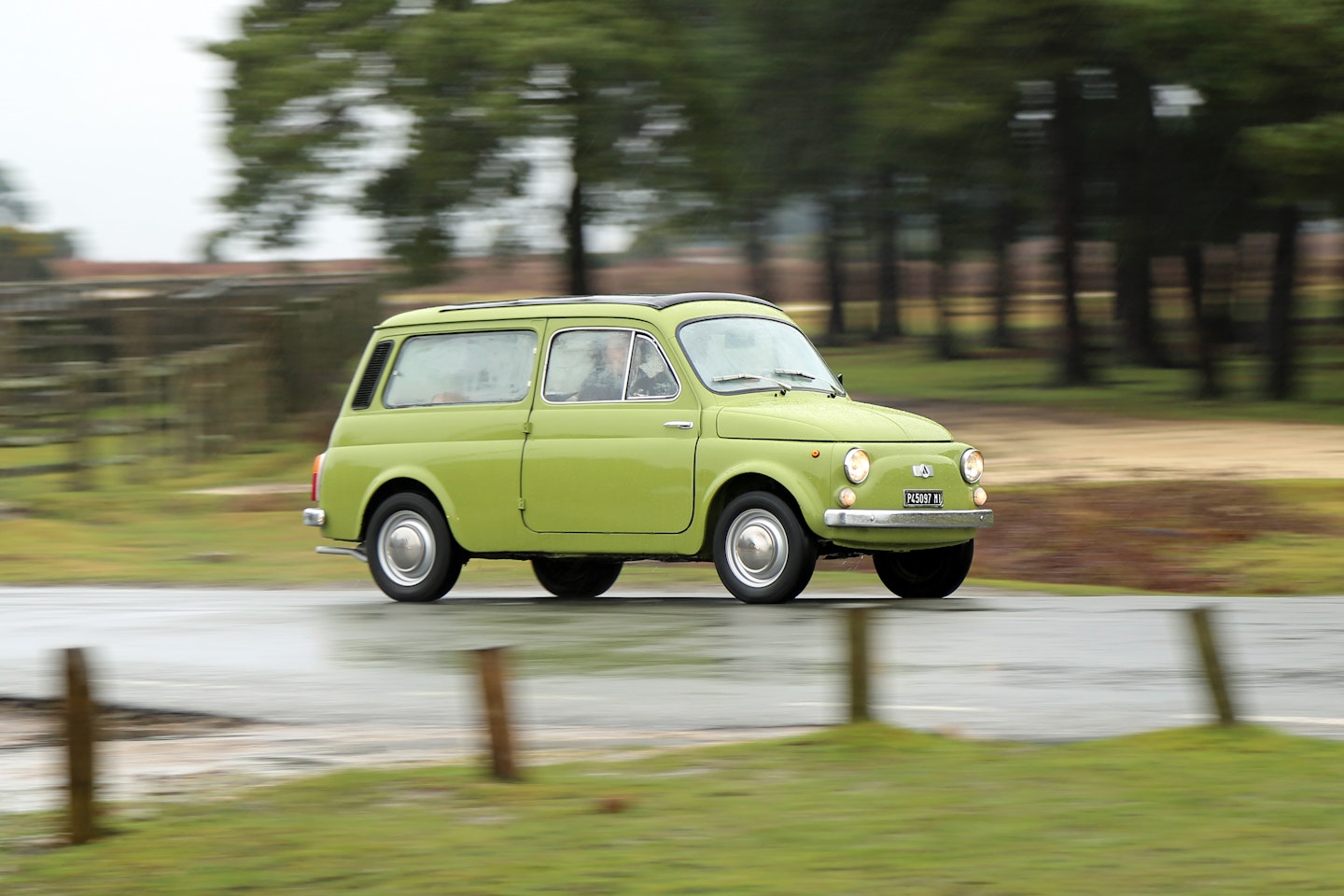 The Giardiniera – essentially a 500 estate made by Milan-based subsidiary Autobianchi until the late '70s – is the result of some very clever thinking. Trying to cram all that estate car packaging into a portion of the Fiat 500 where the two-cylinder engine was already doing its bidding shouldn't really work, but by turning the motor on its side, Turin's engineers managed to create room for 200kg of clobber laid out on a completely flat floor, in a car just 8.5in longer than the tiny urban tearaway upon which it's based.
The wheelbase is also four inches longer, but the end result is a car that's airier and more accommodating than the saloon. It's a pity that Lingotto didn't engineer an extra set of doors to really up the practicality ante, but then the rear bench seat is easily accessible through the rear-hinged suicide doors, a feature retained on the Giardiniera long after the saloon adopted front-hinged doors.
But that's where the sensible streak stops. In every other sense the baby Autobianchi is Fiat 500 to its core, and all the better for it.
The whole driving experience is dominated by the sideways-mounted two-cylinder engine, which elicits an excitable chatter whenever you depress the tiny clutch pedal and slide the gearlever in search of another cog. It may be able to muster only 17.5bhp, but it always feels much more energetic than it really is. And you can't help but smile when this willing little motor starts to sing its heart out as you wring the absolute most out of it.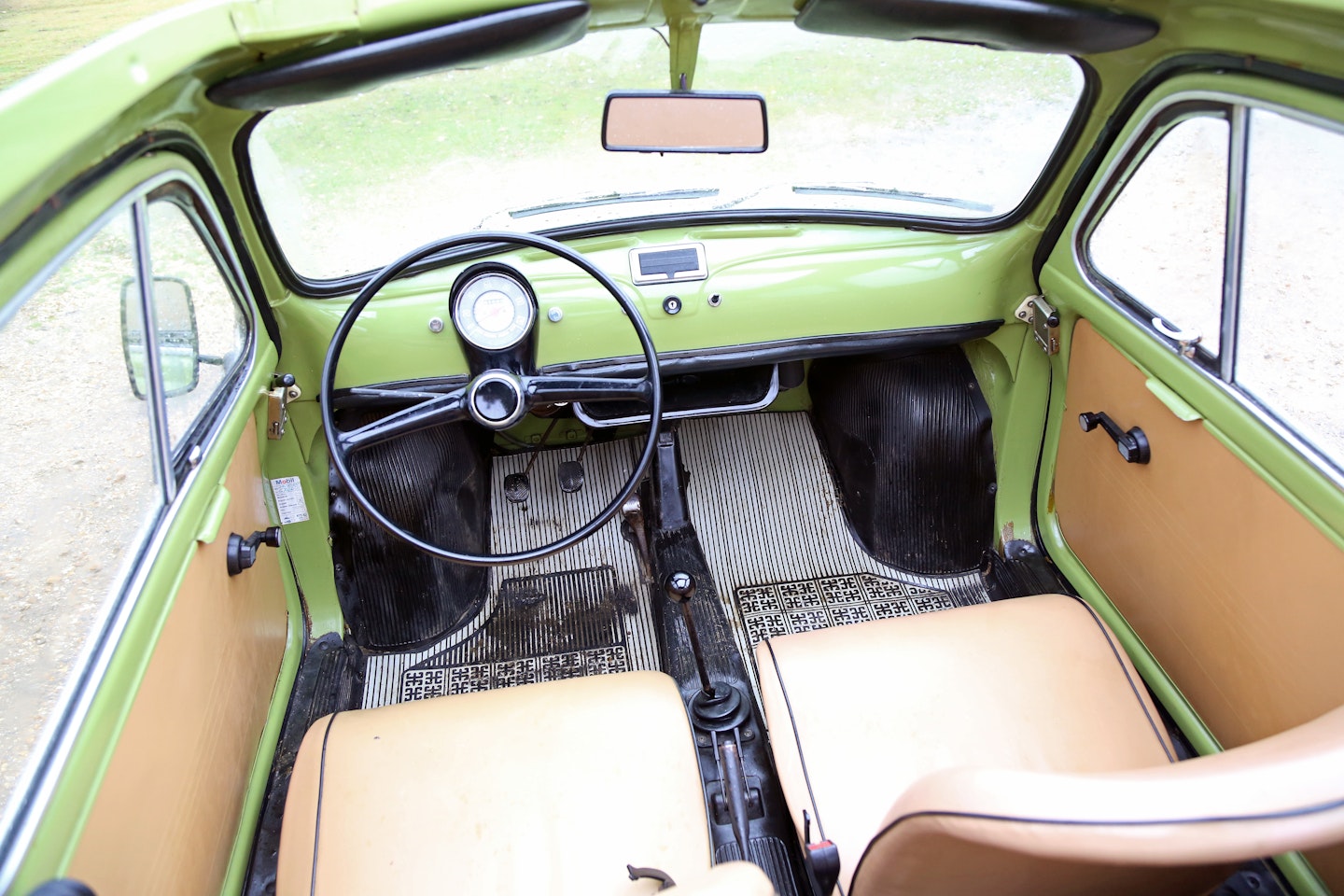 It's the same story with the sensations you pick up through the spaghetti-thin two-spoke steering wheel; it feels so light that you feel like you could almost flick the car through tight turns with a single finger. And when you do, the front end darts through the bends with almost startling immediacy. You soon learn that the trick to driving it quickly is to judge its tiny proportions and exploit its flyweight handling. Certainly, it distinguishes itself much better in a series of tight bends than it does flat-out on straighter stretches of road.
The Giardiniera may be bigger than the saloon, but it still generates the sort of small-car fun you can easily end up hopelessly addicted to – and with this one, you can take your mates along for the ride. Chances are they won't believe the numbers either..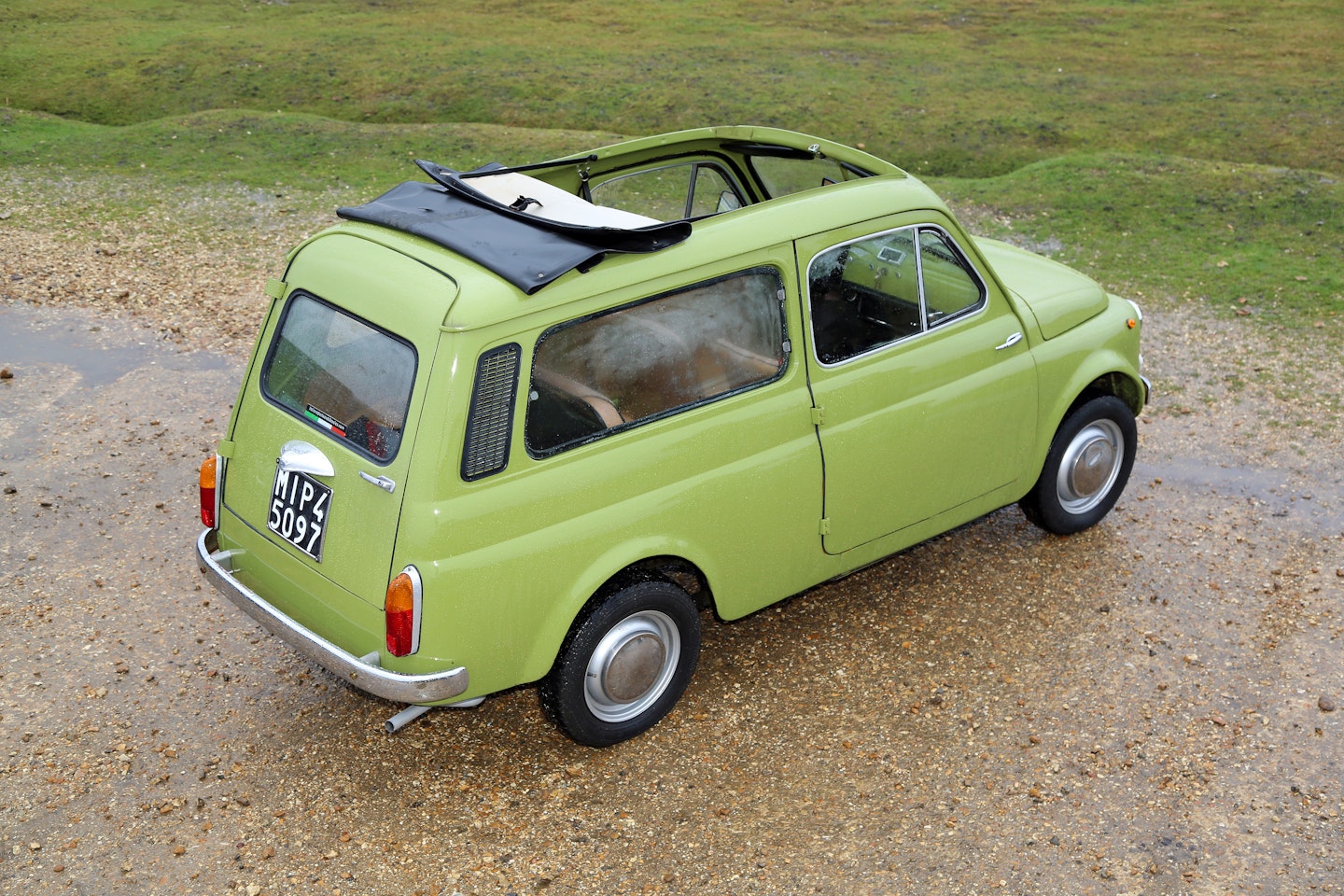 DAILY DRIVING
Like the 500 saloon, the Giardiniera was designed to be threaded through the tiniest gaps in crowded town and city centres, despite its larger interior and boot space. And what works in the impossibly tight back streets of Bellagio works equally well in Bolton. It's a doddle to park, the controls are light and easy to use, and it can make a gallon of petrol last 45 miles. All-round visibility is exceptional too, and the squared-off rump makes its extremities delightfully easy to judge when reversing in even the tightest of spaces.
LOOKING AFTER IT
The Giardiniera's two-cylinder engine is easy to access – just lift the flap in the luggage area, and there it is. It's a simple unit, with plenty of space around it to work on. Don't be surprised to find that a regularly used car has had a few tweaks over the years, though – the condenser and rotor arm are particularly notable for being unreliable, so plenty of Fiat and Autobianchi models we've seen have now been upgraded to electronic ignition. Whether you value strict originality more than modern-day convenience is a matter of personal preference.
ON THE SHOW CIRCUIT
You may have some explaining to do when curious showgoers ask what this car is – most people instantly assume that it's a Fiat 500 – but the cute looks and tiny proportions have a habit of winning just about everyone over. The Fiat 500 Club is pretty proactive at organising show visits too, so if you sign up you should have plenty of like-minded friends to enjoy your baby classic with. All but the very last Giardinieras are tax-exempt too, so it should be waved through at the gates of just about any show you visit.
THE LONG WEEKEND
The Giardiniera's increased luggage capacity makes it easier to take a few friends and their luggage away, but it's going to struggle with long motorway journeys even with the larger 499cc engine from later Fiat 500s. It can manage a gentle 50mph cruise, but it's a noisy companion on longer journeys and you won't be doing much in the way of overtaking. It's worth having a look at the Fiat 500 Mods and Consequences feature that we ran in last week's issue – many of the tweaks aimed at the 500 work equally well, and they'll result in vastly improved performance.
ON THE B-ROADS
The Fiat 500 lacks the Mini's ultimate pin-sharp steering, but you'll still find any 500 derivative, including the Giardiniera, has an addictive quality on country lanes. The lack of straight-line oomph means that you have to concentrate on making the most of its handling, and there is something hugely rewarding about threading it through corners, particularly tighter ones where larger classics will struggle to contain body roll at the same speeds. Be warned, though – it's addictive stuff. You'll definitely want to hop in for another go!
WHAT TO PAY
Project: £2000-5000
Usable: £4000-6000
Good: £7000-9000
Concours: £10,000-12,000