The Austin-Healey 100/4 is one of the prettiest mass-produced cars this side of the Jaguar E-type. Sitting here in sexy red with standard wire wheels, few could fail to fall for this delicious cocktail of curves, soaring swage lines and gleaming chrome. One glance at it, and I'm no longer in Peterborough, but booming down a San Franciscan highway or over an Alpine pass, a potent mixture of hot engine and local fauna assailing my nostrils.
Yet under that pretty skin lurks a lot of rather unglamorous Austin mechanicals, including the gearbox, suspension components and a 2660cc four-cylinder engine from a couple of Longbridge's less successful post-war models.
But behind this car was engineering genius Donald Healey, who had worked wonders at Riley and Triumph before the war and following the end of hostilities produced cars under his own name, including one in conjunction with Nash. Most importantly, the car that would become the Austin-Healey 100 was Healey's own creation, with all the parts chosen by him for what was originally an independent project. It is the stuff of legend that BMC chairman Leonard Lord saw the car at the 1952 Motor Show and loved it so much that he thrashed out a deal that very evening to build it at Longbridge as the Austin-Healey.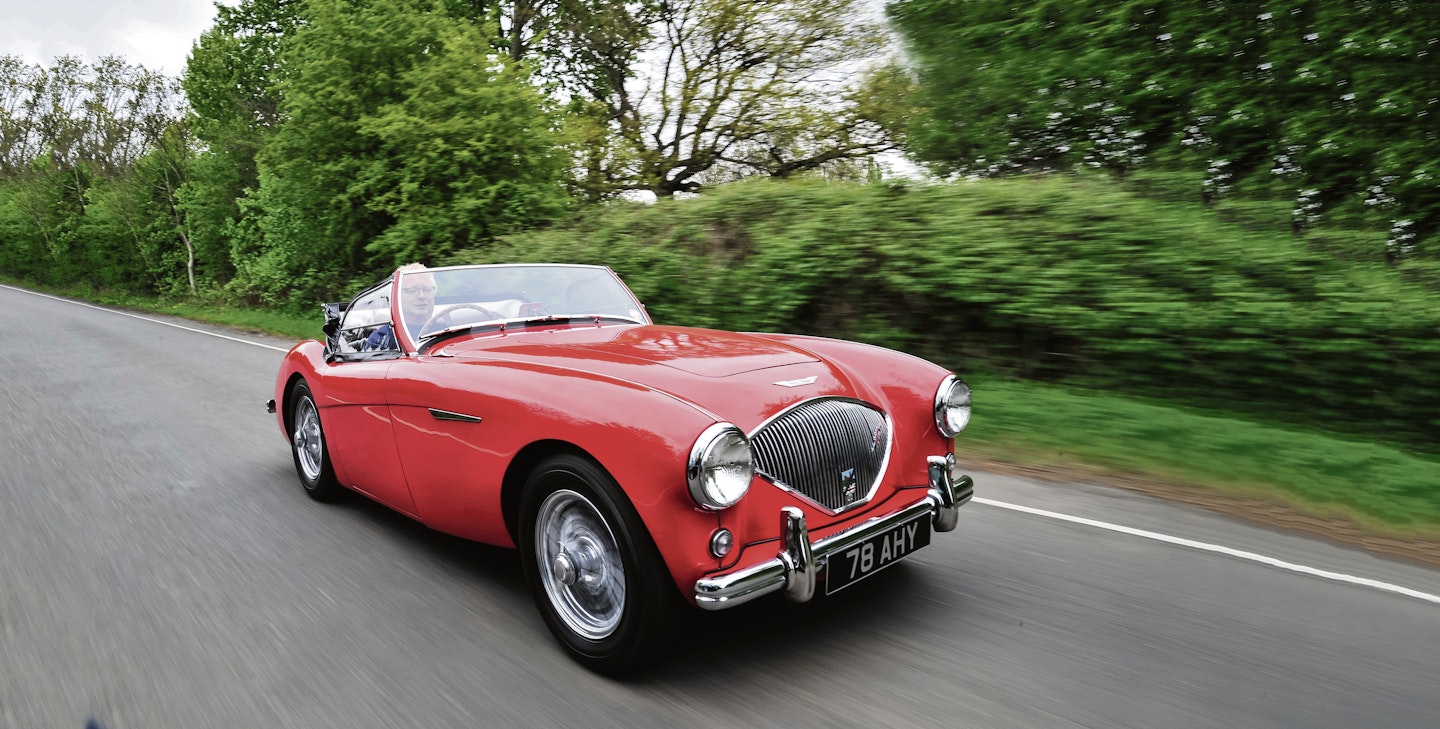 Opening the driver's door, there is a feeling, on lowering yourself into the driver's seat, that you are sitting below ground level. It seems a long way down! That said, the seats are very comfortable and there's a sense of at least some space around you as you turn the ignition key and press the starter button to activate the throaty 2.6-litre four-cylinder engine. Inevitably, it's not quite six-cylinder smooth, but it feels surprisingly refined nonetheless.
Instrumentation is pretty straightforward, with a rev counter (redlined at a lofty 4800rpm) and oil pressure and temperature gauges on a main instrument panel, but the three-speed gearbox's shift pattern is anything but. First is where you'd expect fourth to be, second where first usually is and third is straight back down to where second traditionally lives. Reverse is to the right of first, and to confuse matters further, the gearlever sprouts out of the left side of the transmission tunnel rather than the centre.
Release the handbrake and rather sharp clutch as you get the car into first gear – oh blast, that's second – and we're off, the four-pot engine thumping over evocative gear whine and a heavenly exhaust note.
Change up the low-geared 'box in search of second, then straight back into third, remembering that there's overdrive on both second and third. This is a light car, despite its complex chassis, and the engine's torque is put to good use. As the name suggests, this really feels like a 100mph car.
Handling and ride are excellent too, the car feeling totally controlled even through fast, sharp bends, and the brakes are surely one of the best all-drum set-ups ever made. Great engineering? Yes. And some Healey magic.
DAILY DRIVING
Imagine the joy of getting in to your Austin-Healey 100/4 every day. The mechanics would certainly stand up to it, because this is no fragile, bad-tempered sportster. A couple of extra mirrors to see behind you and you'd be away. The car is a joy to drive once you've got used to the car's sharp clutch, with lots of power, relatively light steering and good brakes. There's no reason why a well-maintained one would overheat in traffic.
On the minus side, the car has little ground clearance and the side screens and soft-top aren't terribly secure. Maybe you should take
a German Shepherd along with you.
LOOKING AFTER IT
An excellent network of specialists and plenty of club support mean that just about everything is available for these cars, from normal service items to a complete chassis.
The 100/4 is very simple to work on too, and has no unusual vices. Oil changes are normally needed every 3000 miles, with greasing of the suspension, propshaft and steering recommended every 1000 miles or so, depending on use.
Once you've mastered that grease gun, you should have a reliable car, though you do need to make sure you keep on top of Waxoyling the chassis, which can hide rust well.
ON THE SHOW CIRCUIT
It's hard to imagine any genuine classic car enthusiast not loving this car – and it's hard to imagine the organiser of a show turning one away at the gates.
These cars are relatively rare in the UK because most were exported to the United States (although some have returned over the years), so many people will be fascinated to learn that there are standard Austin mechanicals under that gorgeous bodywork.
With 100mph top speed potential and strong acceleration, the 100/4 could tackle any trial thrown at it, so you'd never feel embarrassed on road runs. The 100/4 would spread goodwill wherever you go.
THE LONG WEEKEND
Few cars are better suited to the business of heading off for a romantic weekend than a Austin-Healey 100/4. You might even consider taking someone with you. Engage overdrive and you can tackle long-distance motorway cruising with relative ease and the handling is good enough to tackle any twisty road.
The car isn't excessively noisy, but nor is it loaded with creature comforts, though the seats are comfortable enough over long distances, we discovered.
There isn't a huge amount of luggage space, however, so bear in mind that your Louis Vuitton suitcases could well find themselves in an unequal fight with the spare wheel if you overdo it on the packing front.
ON THE B-ROADS
Here's where the 100/4 comes into its own. You'll be surprised at just how well this car rides and handles – the handling is predictable yet responsive and you're certainly not shaken around while the front scuttle flaps happily away.
Once you're used to its weird three-speed gate, the gearbox is pretty slick and the brakes are remarkably good. The 100/4 inspires confidence, and certainly doesn't feel front-heavy or that a twitch of the steering wheel will provoke massive understeer. And the windscreen folds flat to make even more of the car's excellent aerodynamics. How cool is that?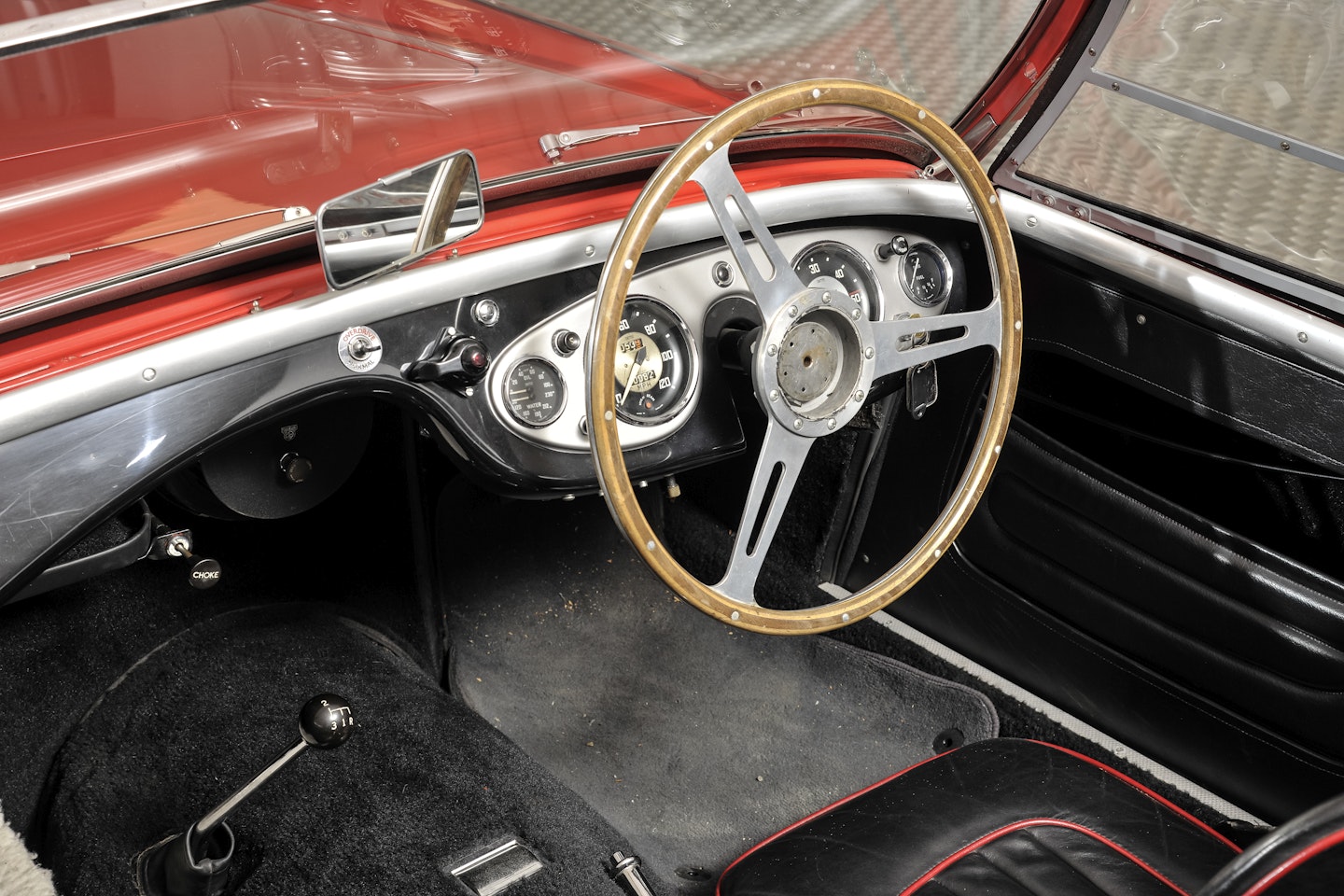 WHAT TO PAY
Project: £20,000-30,000
Usable: £28,000-40,000
Good: £35,000-55,000
Concours: £50,000-70,000