There's currently a global appeal for Allard owners to take part in a 70th anniversary parade at this year's Silverstone Classic. Trouble is, the fine vehicle before us – and, indeed, the company that made it – seems to have faded from the general car consciousness.
But here, to quote a well-period catchphrase of one Arthur Askey, 'before your very eyes' is an Allard P1, the product of a relatively tiny company run by engineering genius, Sydney Allard. A P1 with the man himself at the wheel won the 1952 Monte Carlo Rally, scattering Citroëns, Simcas and Jaguars in its wake.
Despite undoubted engineering excellence, the cars relied on sidevalve V8 engines and other components from Ford.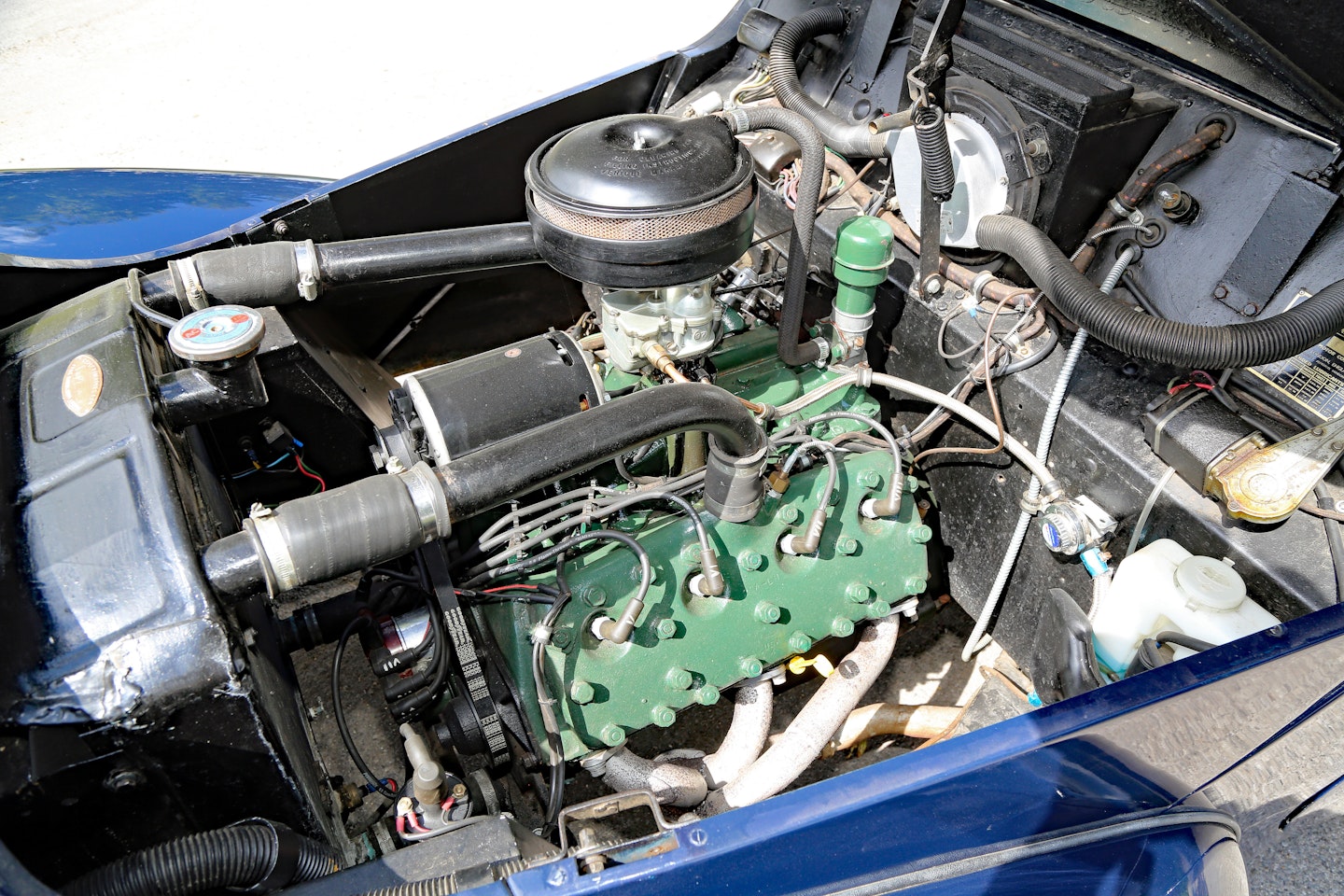 The P1 is a fascinating sight in the metal today, with huge wings flowing and a lovely sweeping waterfall grille. The sloping bonnet is practically a sculpture in its own right, even if it is a little tarnished by the massive air intake that looks like something from an amateurishly customised Ford Escort. However, the lovely wheeltrims wouldn't look out of place on a Rolls-Royce.
Aft of the bonnet, the car looks beautiful from some angles yet a little ungainly from others; it's almost as if the Daimler Conquest-ish back end was only put on out of necessity.
This is undeniably a superbly craftsman-built car, however. Open the huge door and an interior of high-quality fittings await. The blue leather seats are cosseting and the dash comprises a lovely piece of walnut.
There's all the instrumentation you need, and even a radio. The oil and water gauges are together, and there's a separately-housed ammeter. The speedometer is calibrated in kilometres as well as miles, and incorporates a clock. Perhaps surprisingly for a 1951 car, the wipers are activated, pre-war style, by two large knobs, one for each side, towards the top of the dash. There's also an outward opening windscreen, plus working trafficators.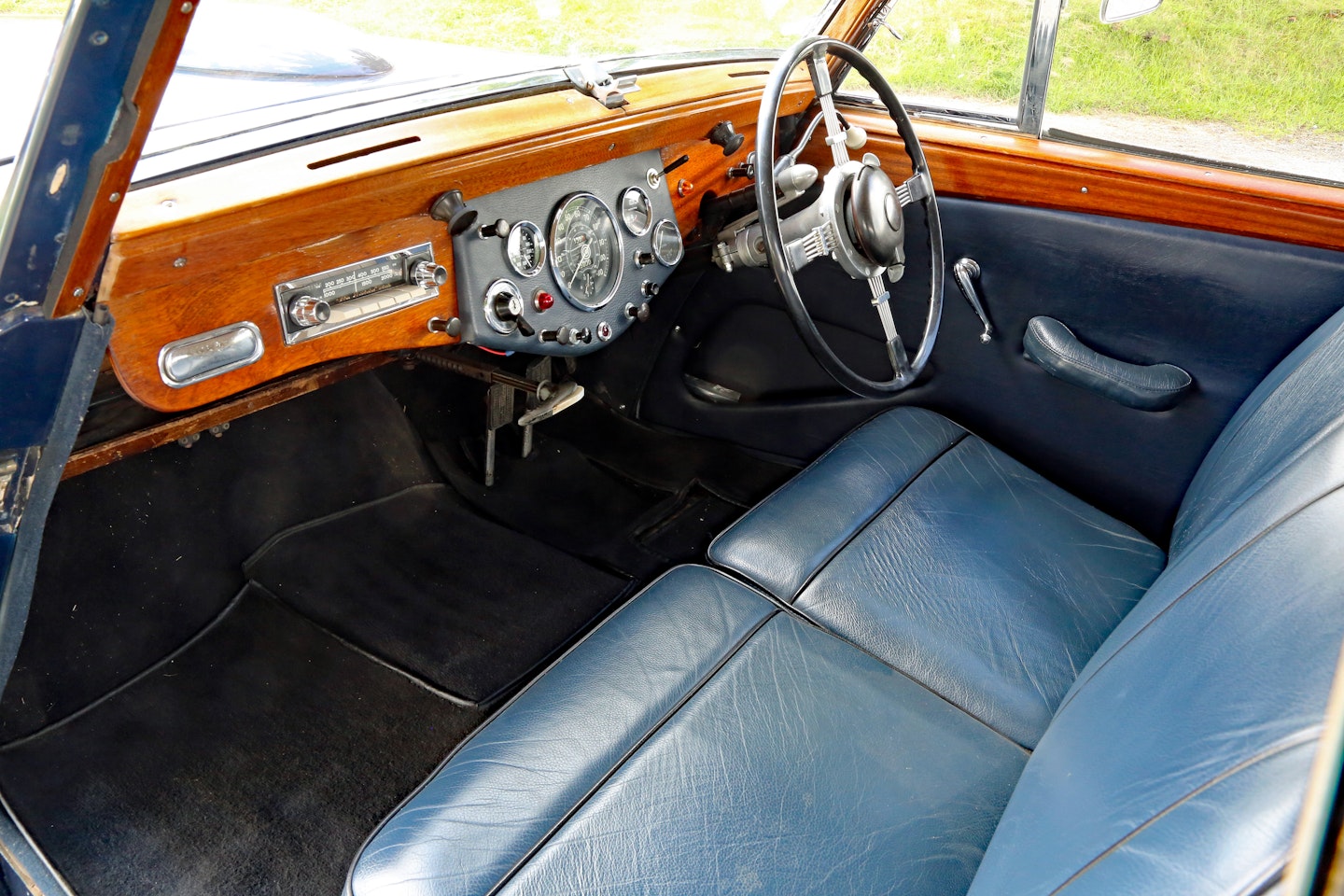 Activate the starter and grasp the magnificent, spoked Bluemels steering wheel, with its Bakelite centre boss incorporating sliding switches, top and bottom, for the indicators and dim/dip respectively. Then locate the huge column-mounted gear lever, which looks like a floor change with a kink in it, ease into first (oops that's reverse) release the under-dash handbrake and we're off.
Crumbs, we've never heard a Ford V8 sound like this before – it's almost like a Cooper Brabham in heat. Ease the (quite heavily sprung) gear lever into second and the 3622cc V8's power and torque make themselves felt. Was there ever a more flexible engine than this? Progress from 20-70mph in top is as smooth as it is rapid.
The steering is quite heavy but beautifully weighted. There's some understeer but the car handles superbly overall, despite its straightforward suspension with (on this later P1) front coil springs and transverse leaves at the rear. There's also an astonishing lack of body roll, even in fast bends. Excellent visibility further inspires confidence, likewise the strong and progressive Lockheed drum brakes.
No doubt about it, this is a car of many surprises.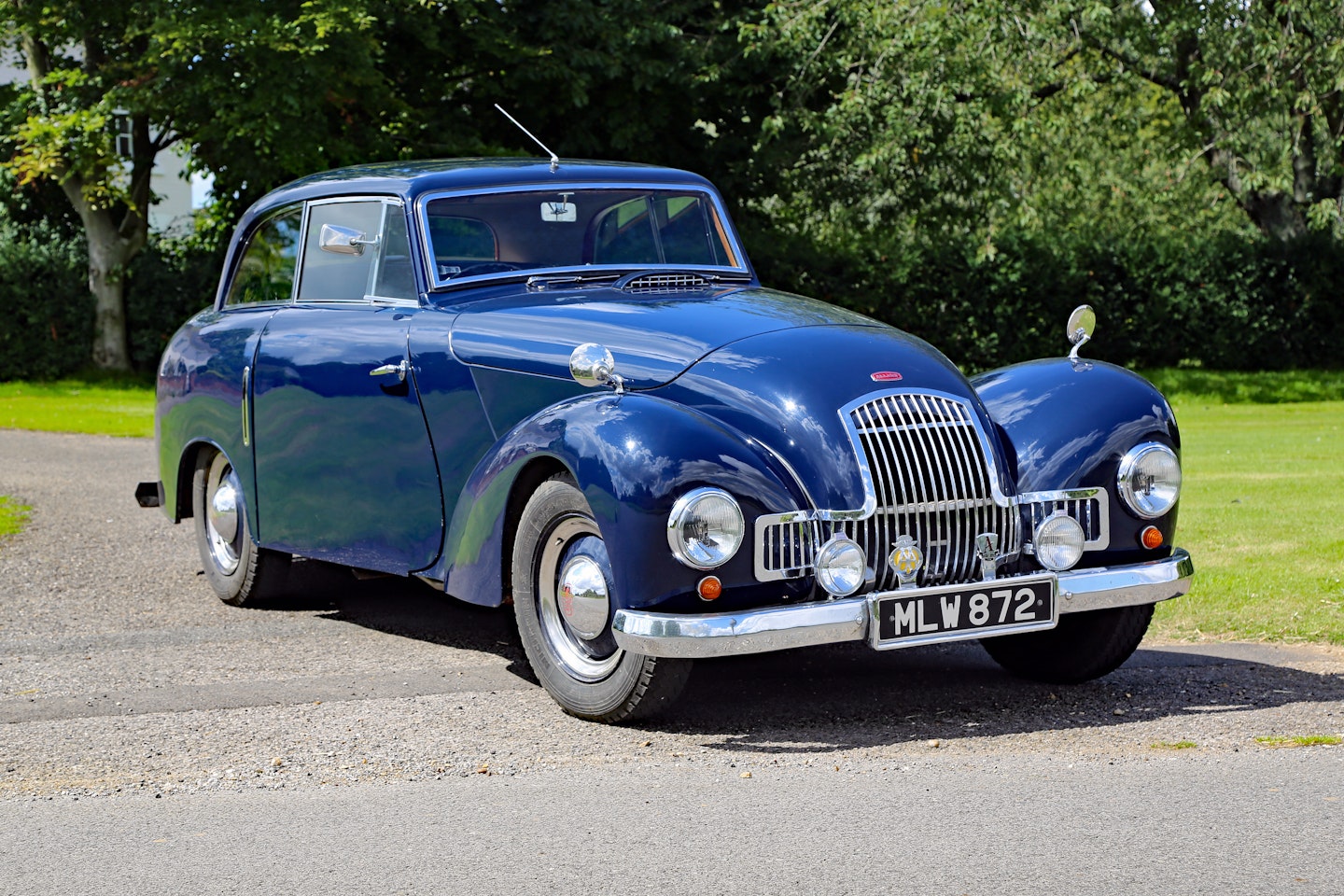 DAILY DRIVING
We would have no qualms about submitting an Allard P1 to a spate of regular use. The Ford mechanicals are virtually bomb-proof and the engine is beautifully flexible; certainly, there would be absolutely no worries about keeping up with modern traffic. The controls aren't exactly fingertip light, but they're not so heavy as to cause real problems. The steering is very good and the brakes are excellent. The car also offers excellent visibility, despite those sweeping wings, and it's also extremely comfortable and well equipped. The only real problem is that the downside to muscular Ford V8 power is around 18mpg at best.
LOOKING AFTER IT
As previously mentioned, Allard relied heavily on Ford components for the P1, including the suspension. It's all straightforward stuff and any spares you need that you can't find in the UK are likely to be readily available in the US. Servicing is certainly straightforward enough, with no known hidden horrors to worry about. That said, be wary of a rotten car – body panels are going to be pretty thin on the ground, and we certainly wouldn't want to foot the bill for a pair of remanufactured front wings. Repair is definitely the name of the game with these cars. At least the aluminium panels and strong chassis should stand the test of time.
ON THE SHOW CIRCUIT
We can't imagine any show organiser who wouldn't welcome an Allard P1 to a show. Just 559 P1s were built between 1949-1952, and the unique styling is sufficiently jaw-dropping to elicit the odd 'what on earth is that?' The Allard's performance is enough to surprise plenty on road runs or hill climbs and there would also be many surprises when you open the bonnet. Some will recognise that Ford V8, though marvel at its unfamiliar surroundings, while others may well be convinced that it's an Hispano-Suiza unit built under licence by Allard. You wouldn't tell them any differently, though, would you?
THE LONG WEEKEND
An Allard weekend would be excellent, unless you're a rear seat passenger, in which case you might feel a little cramped on anything other than short trips. Otherwise this is a comfortable car in which you can make much progress – 70mph cruising isn't a problem, and handling and ride are good over long distances. The V8 sounds wonderful, but some unenlightened types may find it a little noisy on longer journeys. There's plenty of storage and cubbyholes dotted around the cabin for maps, barley sugars, jelly babies and so on. The boot is more than big enough to swallow a weekend's worth of luggage, too.
ON THE B-ROADS
This rally winner would be great fun on B-roads, where you could experiment with all that delicious V8 torque on the straights and while squirting out of bends. Handling is extremely reassuring, the steering inspires confidence and the brakes feel in complete control at all speeds. Push it reasonably hard and the resultant understeer is controllable, unless you're mercilessly thrashing the car; at no point within its normal limits did we feel any sensation of the rear of the car beginning to drift away. The three-speed gearbox doesn't like to be rushed – what column change does? – but this doesn't really impede progress.
WHAT TO PAY
Project: £500-1000
Usable: £1500-4000
Good: £2500-5000
Concours: £6000+