Cars have objective qualities, such as handling, performance and build quality, but there's really only one true barometer of a car's success – how well it sells. In this crucial regard, the 1100 is one of Britain's most significant cars and a landmark in front-wheel-drive's rise to pre-eminence.
The 1100 (known across the marques as 'ADO16') was the first front-driver to become Britain's best-selling car, which it did for an astonishing seven years. The Mini was the trailblazer, but had the 1100 not been such a runaway success, who's to say that transverse FWD wouldn't have been regarded as a quirk, rather than the industry standard it is today?
The 1100 looks much like any other early Sixties saloon, but while the car's basic shape was laid out by Alec Issigonis, Pininfarina was brought in on a consultancy basis, with most of its input going into the handsome front end. From the profile view, however, you realise that the 1100 wasn't far from what we'd now consider a modern 'two-box' hatchback shape – it's a shame that Issigonis never thought to include a lift-back.
It's these proportions, however, that go a long way towards explaining how such a small car can feel so cavernous inside. With almost 360-degree glass, it's incredibly airy, too, with a low waistline that affords exceptional visibility.
It's no bad thing that the view outside is so good, though, because the Austin's dashboard is undoubtedly one of its less appealing points. Issigonis' obsession with utilitarian purity meant that he never seemed able to design luxury, something that is evident in the 1100's austere interior. An uninspiring strip speedometer sits on what might as well be a floorboard nailed across the car, for all of its non-existent design complexity. The switchgear is also utterly mismatched, in both individual design and layout. And that's a shame, because other fundamentals like the seats, steering wheel and door cards are all appealing. Sadly, they can't redeem what is a truly bland interior when compared to contemporary rivals such as the Ford Cortina, Triumph Herald and Vauxhall Viva.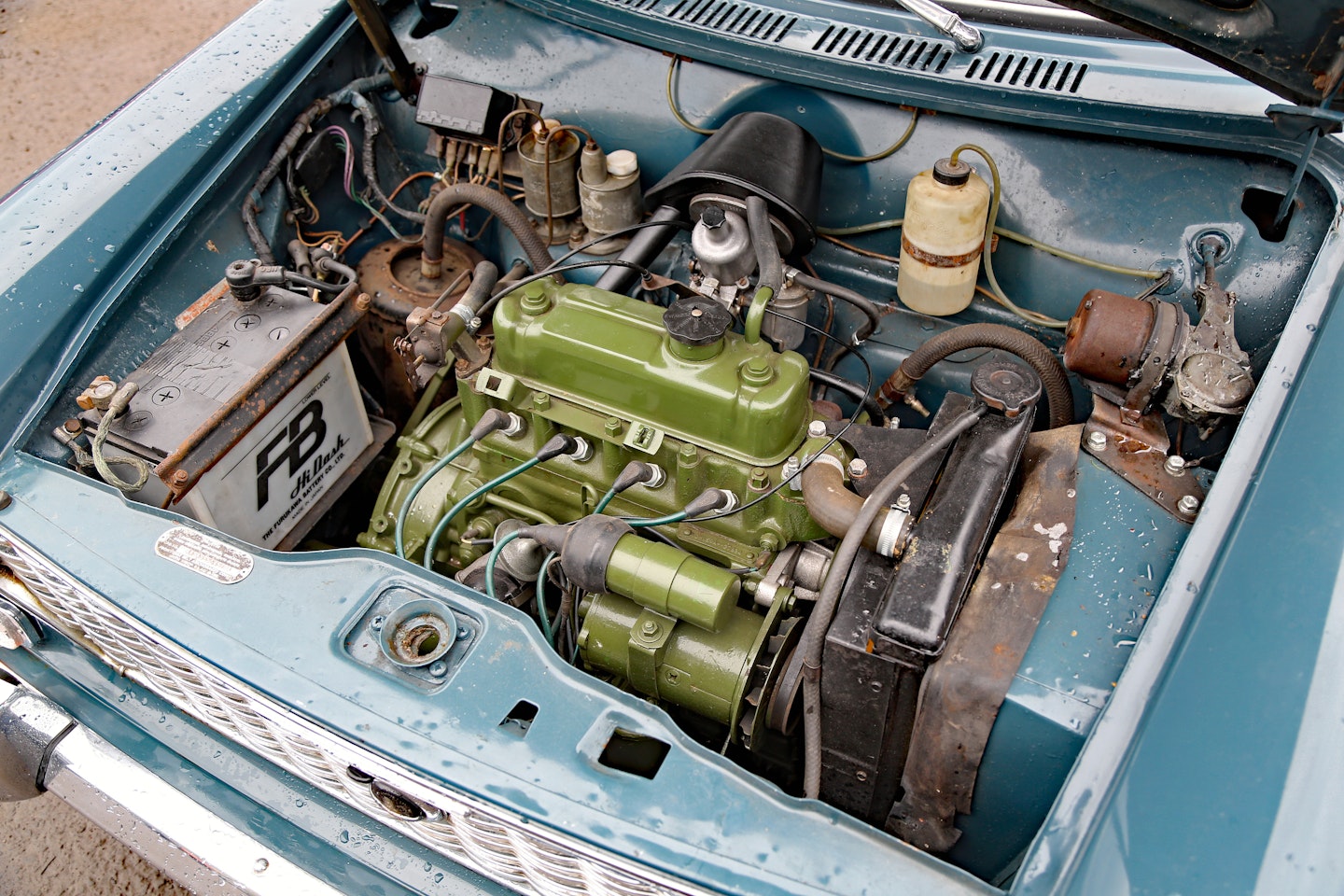 Fortunately, the experience is wholly positive once you're on the move. The 1098cc A-series engine springs eagerly to life, the clutch is pleasantly weighted and the gearbox is light and slick, with no ambiguity between the ratios. The throttle and clutch are quite binary in operation, so setting off smoothly from rest can be initially difficult, though familiarity and practice do improves matters.
The 1100 isn't fast – its engine is just over a litre in capacity, after all – but it feels brisker than its 22-second 0-60mph time suggests. That said, there isn't much power left over 60mph, at which point the engine starts to get quite noisy. You might want to consider the 1300 if you're going to do lots of high-speed driving, but the 1100 is more than capable on twisting country roads. It sounds sweet too, emitting a delightful 'parp' from an exhaust tailpipe that appears far too small for an engine even of this size.
All good so far then, but little different from a Mini. It's only when you tackle a less than perfect surface that the 1100 shows off its party piece. Finely pockmarked surfaces that would destroy a Mini owner's spine simply don't trouble the 1100; indeed, the Hydrolastic system copes with small-scale, high frequency bumps much better than some luxury steel-sprung setups, which simply can't react with the same immediacy. Conversely, though, a succession of large, undulating bumps can cause the car to become amusingly bouncy. It's never uncomfortable, but doesn't do much for the roadholding and detracts from what is an otherwise sporting and engaging drive.
Fortunately, the 1100 shares much of the Mini's famed steering. It's light, even at low speeds, but always communicative. It changes direction almost as quickly, too, and while its extra weight dampens its ultimate agility, it has that same feeling of immediacy and fun.
Today, the 1100's mix of old and new characteristics make it a very approachable classic, and one that is easy to use every day.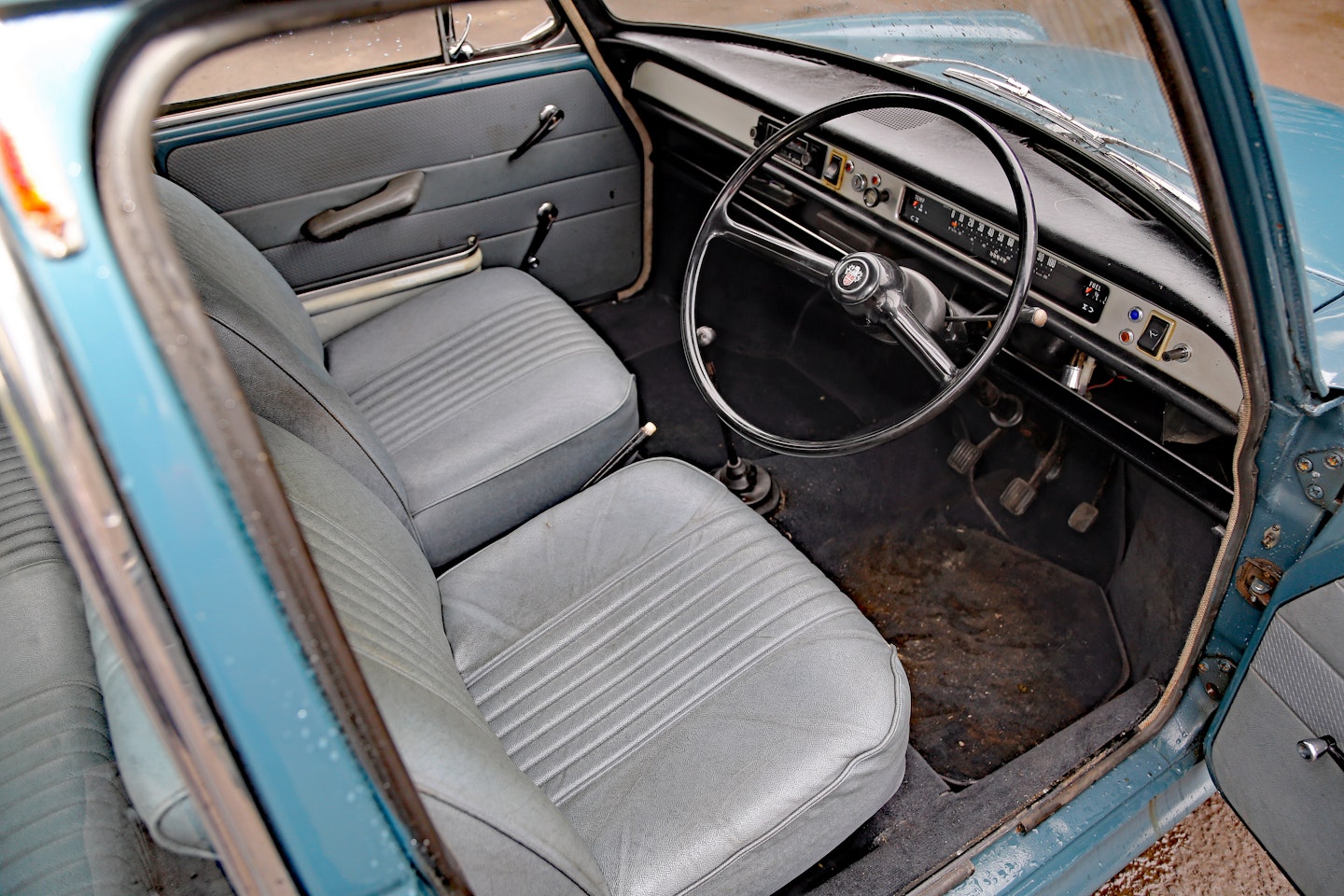 DAILY DRIVING
The 1100's ease of use was its key selling point when new and remains so today. Light steering and excellent visibility make low-speed manoeuvres incredibly easy, while the Hydrolastic suspension is reasonably comfortable. You can expect good fuel economy, too, and the car genuinely seats four, despite its small size. There's nothing inherently unreliable about the Austin, but it may be worth upgrading to electronic ignition to ensure good running. Later cars came with plastic splash guards for the engine – it's worth retro-fitting these to an early car if you're planning to drive on wet roads.
LOOKING AFTER IT
As an everyday classic of increasing rarity, the 1100 is welcomed at most classic car shows. You'll need there to be something special about your car if you want to be the centre of attention, though. GTs have a particular cult following thanks to their proto-hot hatch looks, and Vanden Plas 1300s often fool people into thinking you've got some kind of miniature Rolls-Royce. Getting to the show shouldn't be difficult (unless you're going halfway across the country) with all 1100s being comfortable and economical. With your advanced suspension and front-wheel-drive, you won't struggle to get out of a muddy field if it rains, either!
ON THE SHOW CIRCUIT
Events to watch out for include the Vauxhall Bedford Opel Association's National Rally, which is the nation's biggest show for devotees of Luton's finest. It'll also be welcomed into most of the nation's classic shows on account of its age, but don't expect a band of curious showgoers to immediately greet you as soon as you park up. The Viscount's slow-burning appeal means that it won't grab everyone's attention – but those who do gravitate to it tend to really love Luton's big saloons.
THE LONG WEEKEND
The 1100 isn't particularly long-geared and can take an age to reach a genuine 70mph, so it's not ideally suited to motorway driving. Your best bet would be to join the trucks in the inside lane at 60mph or, better yet, pick a more scenic route. Beyond this limitation though, the 1100 is comfortable and has a reasonably-sized boot, so could easily take a family on holiday. The back seats are large enough to accommodate adults on small to medium trips, but they won't appreciate the lack of room after an hour or so. Remember that the suspension isn't self-levelling, so don't go too fast over bumps if you're loaded with people and luggage!
ON THE B-ROADS
The 1100 is more capable, here, than most of its contemporary rivals. It feels much like a larger, slightly softer Mini, tending towards predictable understeer when you go too fast, but with good levels of grip and much of the Mini's agility and enjoyable steering. The only issue with the 1100 is that the suspension can get bouncy over repeated undulations – the only real drawback of the Hydrolastic system. Otherwise, its remarkable fun to drive for a Sixties family car. Of course, there's always the 1300 if you want to get the power to match the capable chassis too, and you won't be short of tuning options from A-series specialists.
WHAT TO PAY
Project: £500-1000
Usable: £1500-4000
Good: £2500-5000
Concours: £6000+